'Overwatch' Summer Games 2017 leaks: Logo and spray for next event leaked by dataminers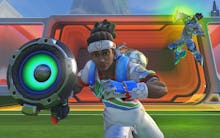 The latest version of the Overwatch PTR recently received a new update in the form of Patch 1.13, and with it a couple of surprises seem to have been leaked regarding the Overwatch Summer Games 2017. It's all thanks to dataminers, who were able to crack a few files that appear to tease upcoming content for the game. The finds include what appear to be the Overwatch Summer Games 2017 logo and the season six spray.
Overwatch Summer Games 2017 leak: Summer Games 2017 logo and season six spray revealed?
According to Reddit user ZingBallyHoo, these images were able to be datamined because they were stored with an encryption key on the PTR that was already known to dataminers. So that was a no-brainer of a workaround.
The Overwatch Summer Games logo is pretty straightforward and resembles last year's design albeit with a bit more simplicity, as you can see below.
The season six spray is a desert-based scene, meant for the top 500 players in the competitive season that launches in August.
Of course, these could potentially be images Blizzard has purposefully put in its update, knowing dataminers would look for things to get excited about. This could all potentially change with the advent of the Summer Games. Right now, it's hard to say exactly what's coming in the future, but if it's Overwatch-related, you know we're going to be writing about it, so stay tuned.
More Overwatch news and updates
For more on Overwatch, check out the rest of what Mic has to offer. Here is an unintentionally hilarious infographic showing the most popular Overwatch characters in each state and a dive into a cool trend on Tumblr that converts your most played heroes into a psychedelic illustration.