This tiny, futuristic patch is amazing news for anyone who hates needles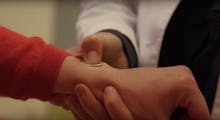 Afraid of needles? Scientists have invented a patch that could someday replace the flu shot.
In the United States, many people still skip the shot, even though flu viruses frequently mutate and pose a real risk for Americans — particularly the young and the elderly. During the 2016 flu season, for example, only about two of every five people in the U.S. got the shot, according to November numbers from the Centers for Disease Control and Prevention.
"We have a tool that is proven to prevent flu illness and hospitalization but millions of people are not taking advantage of it. Too many people are unprotected," Nancy Messonnier, director of the CDC's National Center for Immunization and Respiratory Diseases, said in a CDC release.
The new patch, which was tested on 100 people in a trial, manages to be less scary while still technically pricking our skin. It looks like a nicotine patch, but it applies the vaccine using a series of "painless," tiny "microneedles" that eventually dissolve. The method could potentially be applied to other treatments that involve injections, including cancer-related drugs and insulin for diabetes patients.
"This is the first time that we've been able to put a microneedle patch into a person, give a vaccine and find out what happens," Mark Prausnitz, a professor of chemical and biomolecular engineering at Georgia Tech, said in a video describing the patches.
These stick-ons could revolutionize the way we treat several illnesses — patients can apply the patches themselves and may no longer need to go to a doctor's office for treatment.
"Having an option of a flu vaccine that could be self-administered and well-tolerated could very much increase coverage of this important vaccine in the population," Nadine Rouphael, an associate professor at Emory University and a part of the study, said in the video.
It's a positive step for the future. But for now, the patch will need more testing before it can actually hit the market.