Ebony Morgan is the 15th transgender woman killed in the U.S. in 2017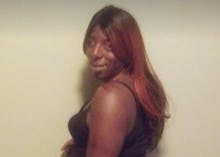 Police in Lynchburg, Virginia, are investigating the homicide of a transgender woman named Ebony Morgan, age 28, who allegedly was shot multiple times on Sunday.
She is the 15th trans woman to be killed in 2017.
Police were called to 303 Rivermont Ave. in Lynchburg, around 1 a.m. Sunday when they found Morgan's body riddled with bullet holes, according to a post on the department's Facebook page.
Emergency crews transported Morgan to Lynchburg General Hospital where she was pronounced dead as a result of her injuries, police said.
Though they are aware she was a transgender woman, authorities referred to Morgan by her dead name because she had not legally changed her name, according to the News & Advance. Police say prosecutors also are aware of Morgan's gender identity and are investigating the homicide as a possible hate crime.
"I'm sure all that is being looked at," Lynchburg Police Sgt. Bryan Williams told the News & Advance Sunday night. "At this point I don't know if there's any indication one way or another."
The Lynchburg Diversity Center and its Transgender Alliance division have spoken with Morgan's family and have offered additional emotional and psychological support services to the local transgender community in the hours since Morgan's murder.
"The family is very quiet and we are respecting their privacy," Transgender Alliance executive director Andi Miller told Mic via Facebook on Monday. "We have offered help and assistance to the family and we will be available to them whenever they need us."
The Transgender Alliance also is providing filing fee "scholarships" to trans people who want to have their legal names changed, characterizing the department's use of gender identity as an unintended harm.
"We do not believe that this was done maliciously, but is part of their operating procedure," Miller said. "Often times trans individuals do not change their identity documents for a variety of reasons, but it complicates issues like this."
The murder of trans women has risen sharply the last three years, according to GLAAD, which tracks hate incidents targeting LGBTQ people.
There were 14 reported trans murders in 2014 and 21 reported trans murders the following year, which set a record. The number rose steeply in 2016, when 27 trans women were murdered.
All of the trans women murdered in 2017 were trans women of color, according to GLAAD.
Attorney General Jeff Sessions on Thursday said the U.S. Department of Justice will look into the sharp rise in trans murders this year.