Save money at the movies: 7 ways to give your wallet a break and catch a flick on the big screen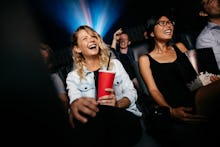 The summer movie season officially kicked off Memorial Day weekend, but it's really hitting its stride now: Despicable Me 3 , Baby Driver and Transformers 5 earned more than $100 million in box office revenues over the long holiday weekend. The new Spiderman flick is just around the corner, too.
Watching a film on the big screen is great way to escape the heat during the dog days of summer. And theaters are more than happy to relieve you of your hard-earned cash with extras like 3-D films, super-sized soda and popcorn at the concession stand and reclining barcaloungers.
But movies aren't the cheap fun they used to be. The average ticket cost $8.84 in the first quarter of 2017, up from $8.65 in 2016, according to the Hollywood Reporter. Then there's the food. Concession purchases accounted for 31% of AMC's revenue in 2016, the Chicago Tribune reported, thanks to a vastly extended menu that could include a $14 glass of chardonnay or a $9.99 crab and avocado sushi roll delivered to your seat.
Thankfully, there are lots of ways to avoid paying full price for films, from shopping for a discount on Groupon to catching a matinee or watching Netflix. Here are seven of our favorite ways to save on summer movies:
1. Enjoy a free outdoor film (and BYOB)
Gather your picnic supplies, lawn chairs and beverage of choice for a movie under the stars. A number of cities throughout the country offer free movie screenings in parks and beaches, often showing classics and blockbusters from previous years.
You could watch Blazing Saddles at sunset on a pier overlooking the Hudson River on Manhattan's Upper West Side, or take in the Academy Award-winning Moonlight in New York City's Chelsea neighborhood. If you happen to be in Utah, hit up the the Sundance Summer Film Series (starting Wednesday) for great flicks like Napoleon Dynamite and Butch Cassidy and the Sundance Kid. Get patriotic in Pennsylvania and see Captain America: Civil War in Pittsburgh's Schenley Park, or debate with friends about the mystery of Marsellus Wallace's neck Band-Aid in San Diego during Thursday and Friday screenings of Pulp Fiction.
2. Snag deals through work, wholesale clubs or other memberships
Your employer may offer discount movie tickets through services like Tickets at Work, Working Advantage or another program. You can save up to 30% off box-office prices, so find out if your employer offers this great perk.
If your company doesn't offer discount movie tickets, you've still got options: Costco and Sam's Club both offer discount tickets for members online. Students can get discounts if they show their school IDs at the time of purchase at some theaters, as can members of the military. Meanwhile, seniors typically receive up to 25% off ticket prices. Lastly, don't forget to leverage that AAA membership, which could also land you a nice price cut.
3. Max out those credit card rewards
Check out the fine print on your rewards credit card, as your cardholder status may mean you also get discounts or bonus points on movie theater purchases. Many rewards cards will give you up to 2% cash back on any purchase, including movie tickets. Some go even further: The U.S. Bank Cash Back allows you to earn 5% cash back for purchases at movie theaters when you opt for that category, and anyone with a Citi Visa MasterCard or American Express credit card can sign up for Citi Private Pass, which has the perk of free movie screenings.
Since every credit card rewards program is different, read the terms and conditions to see how you can save.
4. Resist 3-D
Although seeing some movies in 3-D can be cool, is it really worth the extra $3 to $4 on top of an already inflated ticket price? The average adult-priced ticket to see Despicable Me 3 is about $17, but jumps to $21 for 3-D if you live in Los Angeles, Romper found. You'll still see a decent price jump for 3-D flicks outside major cities: A regular adult-priced ticket in Marble Falls, Texas, is $7 but rises to $10 for 3D.
5. Steer clear of the snack bar
The concession stand is a big part of many moviegoers' cinematic ritual, but it's no bargain. Considering it only costs about 90 cents to make a large bucket of popcorn, the average price of $8.15 should make you think twice.
One way to avoid spending your money at the snack bar is to never head to the theater hungry — the smell of popcorn will break your spirit — and/or BYOS (bring your own snacks). Candy bars and gummy bears travel pretty well, but you could also pop your own popcorn at home and brown-bag it. That huge purse hanging in the back of your closet? It may come in handy to transport your secret snacks.
6. Tap into discounted gift cards
Unwanted gift cards to movie theaters are often sold to resale sites, which allow you to snag them at a discount. Check websites like GiftCardGranny or CardCash, where you can save up to 20% on movie gift card purchases. Elsewhere, Cardpool slashes retail prices for Fandango gift cards by 16%. Talk about easy money!
7. Buy at the box office
Although it can be nice to skip the line and purchase your tickets from home, online ticket services usually charge service fees, Time reported. Check your theater's policy ahead of time, however: Since some theaters are now offering reserved-only seating, the only way to get your ticket at the box office is to buy it in advance. if you live nearby, it may be worth it to swing by the morning before the show to get your ticket. Because let's face it, there's nothing worse than showing up at the theater to learn the film you wanted to see is sold out and the only seats left are for The Mummy.
Sign up for the Payoff — your weekly crash course on how to live your best financial life. Additionally, for all your burning money questions, check out Mic's credit, savings, career, investing and health care hubs for more information — that pays off.