Delrawn Small's family marks one year since his fatal shooting by an NYPD officer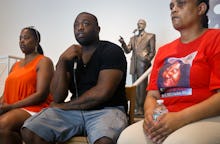 The family of Delrawn Small, a black man killed by an off-duty New York City police officer on July 4, 2016, held a candlelight vigil Monday night at the intersection where he died. Small was fatally shot by NYPD Officer Wayne Isaacs, who is also black, in what police called a road-rage incident.
Dozens of family members and supporters walked from the Brownsville section of Brooklyn to Atlantic Avenue and Bradford Street, where Isaacs shot Small with his NYPD service weapon one year ago.
Small, a 37-year-old father of three, had been driving in Brooklyn with his girlfriend, Zaquanna Albert, and their infant son. Witnesses said Isaacs cut off Small's car and caused him to veer off the road, after which Small confronted the off-duty officer at a stoplight.
Isaacs initially told authorities he opened fire because Small had punched him through his open car window. But footage from surveillance cameras show Isaacs shooting Small within a second of him reaching the window. Small is then seen stumbling away from Isaacs' vehicle and collapsing in between two parked cars.
Isaacs was charged with second-degree murder in September. The case marked the first time an officer was charged under a New York policy requiring the state attorney general to act as a special prosecutor for police killings of civilians.
The accused officer is due in court on Sept. 13, according to Gothamist. A trial is expected to begin in October.
Small's death came within days of the high-profile police shootings of two other black men: Philando Castile, who was killed July 6, 2016, by St. Anthony, Minnesota, police officer Jeronimo Yanez; and Alton Sterling, who was killed July 5, 2016, in an encounter with two officers in Baton Rouge, Louisiana.
Yanez was acquitted June 16 of manslaughter and weapons-related charged. Corey Amundson, the acting U.S. attorney for the middle district of Louisiana, announced May 3 he would not charge the officers involved in Sterling's death.