Florida city votes to rename streets named for Confederate generals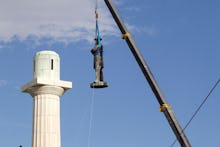 A trio of streets named for Confederate generals in an African-American neighborhood in Hollywood, Florida, will be given new names after years of pressure from activists, the Associated Press reported.
City councilors on Monday voted 5-2 to rename Lee Street, named for Gen. Robert E. Lee; Hood Street, named for Gen. John Bell Hood and Forrest Street, named for Gen. Nathan Bedford Forrest, who is widely believed to have been a founding member of the Ku Klux Klan.
Under the current plan, Lee will become Louisville, Hood will become Macon and Forrest will become Savannah, the AP reported.
"It is time to change the names and the time is now," Commissioner Debra Case said, according to multiple media reports. "We must do the right thing and we must do it now."
The push to rename the streets is at least 15 years old, according to the Sun Sentinel, but it gained steam in 2015 when vandals spray-painted over street signs with the Confederate names, the Miami Herald reported.
At the time, local activist Benjamin Israel — who had previously pressured the city to rename the streets — renewed his push, eventually gaining the attention of Black Lives Matter and the Anti-Defamation League, according to the Miami Herald. Hollywood's African-American council, which advises the city council, also recommend changing the names.
"It is not right that an African-American mother has to tell her child she lives on a street named after someone that wanted them in chains or dead," Howard Finkelstein, a public defender who lobbied the council to change the names, told the Sun Sentinel.
The vote isn't final — councilors will cast another vote in late August to approve the change — yet it is a small but significant victory in the ongoing struggle to erase markers honoring Confederate leaders across the country.
In May, New Orleans removed a statue of Confederate President Jefferson Davis, prompting right-wing legislators in the state's House to pass a law barring the removal of Confederate monuments.
And, in June, the National Cathedral in Washington, D.C., said it will replace Confederate flags on its stained glass windows with plain glass.