One dead, several injured from fireworks across the US this Independence Day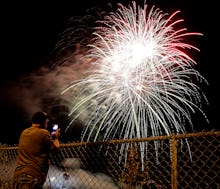 Over Independence Day, at least one American has been killed by fireworks and several others have been injured during the holiday across the United States.
25-year-old Michael Osborne died Monday night after a firework hit him in the chest, Deputy Coroner Bill Schwartz of the Henderson County, Kentucky coroner's office told the Gleaner.
Osborne was bending over the firework attempting to light it when it went off and hit him in the chest, the Gleaner reported.
"It was a big ordnance. The type that is supposed to explode 100 feet in the air," Schwartz said. "The firework hit him hard enough to stop his heart," he added.
The firework that killed Osborne was legal, the coroner's office said.
Dozens of Americans have already been injured by fireworks during the Fourth of July holiday season in 2017, according to local media reports from across the country.
In Fort Lauderdale, Florida, a man identified by his neighbor as "Gary" reportedly mangled his hand with an exploding firework. An Omaha, Nebraska, man and his 7-year-old daughter also reportedly suffered second- and third-degree burns after an accidental explosion caused a 16-shot firework to tip over and fire into a crowd of onlookers Saturday night.
In eastern Iowa, a firework reportedly hit a woman in the chest and exploded. She was holding her 1-month-old daughter at the time. Mother and daughter were transported to the hospital. In Washington state, two boys were injured when a firework one had picked up exploded in his hand. In Sioux City, Iowa, a man reportedly lost his hand to a firework Monday night.
And, in Michigan, four people were reportedly injured after an errant spark set off a bucketful of fireworks in a pontoon boat from which the people had been launching fireworks above a lake.
Finally, a man near Orlando, Florida, reportedly lost part of his hand to a firework Monday evening.
Injuries from fireworks are not uncommon in the U.S.: In 2016 alone, about 11,100 Americans were treated for injuries from fireworks in emergency rooms across the country, according to a report released this June by the Consumer Product Safety Commission, an independent government agency.
Of those, 7,600, or 68%, of incidents happened between June 18 and July 18. An additional four Americans died from their injuries in 2016, the CPSC found. And comparably, 11 deaths and more than 10,000 injuries were reported in both 2015 and in 2014, per CPSC.