Kelly Clarkson clapped back at a Twitter body shamer with the best response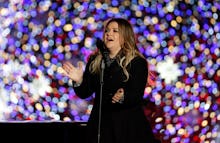 As many people often do on the Fourth of July, singer Kelly Clarkson tweeted to thank those that have long fought for our nation's freedom and independence. In a tweet, the American Idol winner wrote, "Thank [you to] every person in service [for] protecting all of us and cheers to every person who fought for us to experience freedom [and] independence."
Clarkson's message elicited responses from several veterans, thanking the Grammy winner for showing her appreciation. However, the replies were not all positive. Social media is home to the trolls, and one such person decided to take the time to answer Clarkson's positive message with a completely inappropriate one: "You're fat."
Rather than letting this get to her, Clarkson responded to the body-shaming tweet with a positive and mic-dropping message of her own: "And still fucking awesome," the singer clapped back.
Clarkson's amazing — and completely accurate — response has resulted in quite a bit of praise from the singer's fan base. Check out a few of the responses Clarkson has received since reasserting her awesomeness below (there are memes a plenty).
Unfortunately, this is not the first time Clarkson has had to deal with body shaming on social media services like Twitter. Another such occasion occurred in 2015, following Clarkson's guest stint on The Graham Norton Show.
In response to Clarkson's appearance, British media personality Katie Hopkins wrote on Twitter: "Jesus, what happened to Kelly Clarkson? Did she eat all of her backing singers? Happily I have wide-screen."
Clarkson's response to Hopkins' tweet was just as great as her most recent retort. "Oh, and she's tweeted something nasty about me?" Clarkson told Heat magazine after learning about Hopkins. "That's because she doesn't know me. I'm awesome! It doesn't bother me. It's a free world. Say what you will."
Basically, Clarkson does not care what other people think of her, as long as she is happy. "I've just never cared what people think," she said. "It's more if I'm happy and I'm confident and feeling good, that's always been my thing. And more so now, since having a family — I don't seek out any other acceptance."
July 5, 2017, 11:38 a.m.: This story has been updated
Mic has ongoing coverage of Kelly Clarkson. Please follow our main Kelly Clarkson hub here.