Silicon Valley is leaning on black women to fix its diversity problem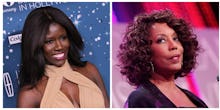 Silicon Valley may be home to some of the world's most innovative technological problem solvers, but there's at least one issue that's stumped engineers and investors: how to make the Valley more racially inclusive.
In recent months, at least two big, but beleaguered, tech companies have turned to high-profile black women to help come up with solutions to their lack of diversity. Those high-profile hires include Bozoma Saint John, formerly of Apple, who was brought on by Uber as the company's chief brand officer — a huge undertaking given the ride-sharing app's recent internal turmoil.
Now Twitter, a platform often derided for its inability to address cyberbullying and harassment, has announced that Candi Castleberry-Singleton, a former marketing executive at Xerox, will be its new vice president of diversity and inclusion.
While she hasn't spoken much publicly about her new role at Twitter, Castleberry-Singleton is an already established leader in the field of diversity and inclusion. At a corporate diversity conference in Pittsburgh back in 2015, she challenged people to think outside of what she called "the illusion of inclusion," USA Today reported.
"It's the difference between mentorship and sponsorship — that means you have skin in the game," she said. "It takes a conscious personal commitment from everyone."
The industry's white, male, bro-y-ness is well-known. Overall, when compared to the overall private sector, tech employed a larger share of whites (63.5% to 68.5%), Asian Americans (5.8% to 14%) and men (52% to 64%), and a much smaller share of African Americans (14.4% to 7.4%), Latinos (13.9% to 8%), and women (48% to 36%), according to U.S. Equal Employment Opportunity Commission.
All this despite the fact that people of color are growing as a U.S. demographic, adopting Silicon Valley's technology at rapid rates and relying on that technology — specifically, smartphones — for everyday tasks like looking for jobs.
Some of the biggest tech companies have been criticized for their lack of diversity. When Apple introduced its iPhone 7 in 2016, Mic pointed out how few women and people of color took the stage as the company's highly touted keynote speakers. In a rare PR misstep, a company spokesperson countered that "We had a Canadian and a British woman" on stage. In May, the company announced that longtime employee Denise Young Smith had taken on a new role as vice president of diversity.
Saint John's hire made a big splash in part because it happened amid a mountain of turmoil for Uber — widening accusations of sexual harassment, an internal investigation and, ultimately, the resignation of founder and former CEO Travis Kalanick. For her, those changes presented opportunities.
"I think this is a really important time for Uber," Saint John told Recode in June. "I'm a change agent. I enjoy telling stories of brands at moments in time that [they] are going to change culture and I firmly believe that Uber is going to do that."
In Twitter's case, Castleberry-Singleton's hire comes almost exactly one year after comedian Leslie Jones was relentlessly attacked with racist and sexist tweets to the point where she publicly quit the service altogether.
On a practical level, Castleberry-Singleton has spoken out against the common practice of tech companies relying on internal recommendations for new hires.
"If we only recommend people we know for jobs, we all need to make new friends," she said, according to USA Today, underscoring that such hiring practices tend to reinforce homogenous professional networks.
Joe Torres, senior external affairs director for liberal watchdog group Free Press, applauded the hires in an interview with Mic. "The tech industry must hire more black women executives and executives of color to address the institutional challenges that have prevented the industry from integrating its workforce and creating platforms that serve people of color," he said.
But, Torres added, the hires are a means, not an end.
"Uber, Twitter and other tech companies must earnestly support executives of color to create the changes that are so desperately needed within the industry," he said.