They absolutely love Donald Trump in Poland. Here's why.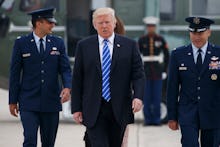 Since becoming president in January, Donald Trump has faced constantly declining popularity and a critical press — a far cry from the seemingly joyous experience he became accustomed to on the campaign trail.
In April, the president's motorcade went out of its way to avoid a Tax Day protest near Mar-a-Lago, Trump's private club in Florida, and a proposed visit to the U.K. was reportedly scrapped because Trump worried he would face unfriendly crowds there.
Trump traveled to Europe Wednesday in advance of the G20 summit in Hamburg, Germany. In Hamburg, he's expected to face one of the largest protests of his career thus far: Up to 100,000 protesters are expected to take to the streets, the BBC reported. That's 20 times as many protesters as when the G20 met a year ago in Toronto, according to the Guardian, and twice as many as showed up in Seattle in 1999.
But before Trump goes to Germany, he will make a stop in Warsaw, Poland, the White House announced last week. That's because Trump has been promised a warm reception by the Polish government's ruling right-wing, populist party, Law and Justice, according to Polish media reports cited by the Associated Press.
Law and Justice, also known as PiS, will reportedly bus in supporters from around the country to greet Trump. Each PiS member of the country's lower house of parliament, called the Sejm, will be allowed to invite up to 50 people.
Populists in power
In Poland, Trump may once again come face-to-face with an adoring audience like those he courted on the campaign trail. In some ways, the nationalist sentiment that helped propel Trump to the White House mirrors concerns of Polish voters who gave the reins to PiS in 2015.
Among other things, PiS promised stricter controls on immigration and better access to affordable health care. It also radiated distrust for liberal institutions, globalization and the media.
Following the election, PiS moved to create a universal health care system similar to the U.K.'s National Health Service. Trump has praised similar systems, including Australia's, in the past.
Years before becoming president, he called universal health care a "must" for the U.S.
PiS has opposed EU proposals to resettle migrants in Poland from countries like Germany and France. Trump has likewise called for a moratorium on immigration from countries affected by the Syrian civil war, along with other Muslim-majority countries.
And Poland is one of only five NATO member states who meet their commitment to spending at least 2% of GDP on defense. Trump has ruffled feathers among the U.S.'s traditional European allies like France and Germany by suggesting that the U.S. might not honor its NATO commitments if those countries didn't begin meeting their spending commitments.
He even claimed, falsely, that Germany owed the alliance money — which, among other gaffes, spurred German Chancellor Angela Merkel to remark that the U.S. was no longer the reliable ally it had been.
PiS is far from the only right-wing nationalist party in Europe – such parties have been on the rise since waves of refugees began arriving in Europe, fleeing the Syrian civil war — but it may be the most successful. Trump will likely find kindred spirits among those who gather to meet him in Warsaw.