Protesters at Alton Sterling march arrested in clashes with police as city marks year since he died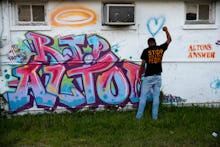 Seven protesters attending a march in Baton Rogue, Louisiana, to mark the passing of one year since the police shooting death of Alton Sterling were arrested in clashes with police on Wednesday, the Advocate reported. Police had asked the protesters to remain behind barricades that had been put up to prevent them from getting close to a Baton Rouge police station.
But when protesters tried to break down the barricades, some were hit with tear gas, shot with stun guns and taken into police custody. The Advocate identified most of the protesters as members of a local chapter of the New Black Panther Party, which has been labeled nationally as a hate group by the Southern Poverty Law Center.
(Editor's note: The following video contains graphic language and violence.)
Sergeant L'Jean McKneely, a spokesman for the Baton Rouge Police Department, said the demonstrators didn't have a protest permit. The seven who were taken into custody face charges of resisting an officer and entering and remaining after being forbidden.
About two dozen people had gathered at the site of Sterling's death, a local convenience store that has since been painted with commemorative murals. The 43-year-old father of five was shot to death on July 5, 2016, during a struggle with two Baton Rouge police officers outside the store.
The officers were responding to reports of a man threatening someone with a gun. Sterling, who was armed, had been selling homemade CDs outside of the store.
On May 3, the U.S. Department of Justice, which had been reviewing the shooting, announced that it would not bring federal criminal civil rights charges against the two officers, Howie Lake II and Blane Salamoni. However, the state attorney general is conducting a separate investigation to determine if other charges are warranted.
Sterling's death came one day before the death of Philando Castile, a legally armed black man killed by a St. Anthony, Minnesota, police officer in Falcon Heights. A jury acquitted Officer Jeronimo Yanez of manslaughter and weapons-related charges on June 16.
The Sterling and Castile cases sparked nationwide protests and intensified the debate over race and policing. The debate was further exacerbated by the ambush of police officers in Dallas, Texas, and in Baton Rouge in the days and weeks following the shootings.