Nintendo Sales: The Switch and 3DS own the charts for the first half of 2017 in Japan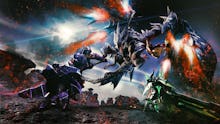 If you've ever doubted the selling power of Nintendo games, you need only look to Japan to see how well the company's cadre of titles are actually selling, at least in terms of the Japanese gaming audience.
According to the latest sales figures published by video game magazine Famitsu for the first half of 2017, a whopping eight out of the top ten best-selling titles are all from Nintendo. That means Nintendo is totally dominating the competition this year in Japan, which really doesn't come as much of a surprise.
Nintendo top-sellers: The games taking the nation by storm
According to Famitsu (via Eurogamer), the top ten best-selling games in Japan for the first half of 2017 are as follows:
1. Monster Hunter XX for 3DS (1,640,005 units sold)
2. Pokémon Sun and Moon for 3DS (527,862)
3. Mario Kart 8 Deluxe for Switch (501, 614)
4. Zelda Breath Of The Wild for Switch (464,480)
5. Super Mario Maker for 3DS (397,656)
6. Biohazard 7 for PS4 (324,066)
7. NieR: Automata for PS4 (311,906)
8. Momotaro Dentetsu 2017 Tachiagare Nippon!! for 3DS (263,790)
9. Yokai Watch Sukiyaki for 3DS (215,297)
10. 1-2 Switch for Switch (200,807)
The best-selling game is Monster Hunter XX for Nintendo 3DS, followed by Pokémon Sun and Moon on 3DS, and Mario Kart 8 Deluxe following that. It's interesting that the top-selling game is Monster Hunter XX, especially since Capcom, speaking to Polygon, doesn't seem very interested in making it accessible to English-speaking players. They noted that they "have not announced any plans at this time" when questioned for comment, despite stating to GameSpot that the game wouldn't be coming to the United States.
The rest of the list reads like a who's who of the Nintendo world, with games like Super Mario Maker's 3DS iteration and even 1-2 Switch rounding up the last of the pack. These are impressive sales figures to say the least, but they certainly paint a picture of what the gaming climate is like right now in Japan, and one thing's for sure: Nintendo is super hot at the moment there. That trend is likely to continue throughout the rest of the year.
More gaming news and updates
Check out the latest from Mic, like this essay about the sinister, subtle evils lurking in rural America that Far Cry 5 shouldn't ignore. Also, be sure to read our review of Tekken 7, an article about D.Va's influence on one Overwatch player's ideas about femininity and an analysis of gaming's racist habit of darkening villains' skin tones.