Officials announce immigration "amnesty" for Grenfell fire survivors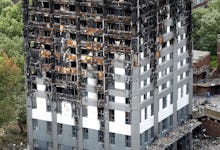 On Wednesday, the U.K. government announced it will waive immigration rules for all foreign nationals directly impacted by the Grenfell Tower fire in London for the next 12 months, NPR reported.
The 12-month suspension means the Home Office will not conduct checks on residents of Grenfell Tower and Grenfell Walk, the Guardian explained. It will also not check the status of anyone coming forward to provide information to authorities.
Immigration minister Brandon Lewis reportedly told MPs the suspension of immigration rules was put in place to protect those who were too afraid to speak with authorities due to their unresolved immigration status, the Guardian noted.
"The government has already stated publicly that the Home Office will not use the tragedy as a reason to carry out immigration checks on those involved, and that all victims, irrespective of their immigration status, will be able to access the services they need," a document sent out by the Home Office read.
Diane Abbott, the shadow home secretary, told the Guardian that while she is pleased with the announcement she does not believe it goes quite far enough in protecting victims.
"I'm pleased to see the government has met the request I raised in the Commons on Monday for an immigration amnesty for Grenfell survivors," she said. "But this does not go far enough to ensure the confidence of those affected. Why would they volunteer their details knowing that in just 12 months they could face deportation? The amnesty must be indefinite to be truly effective."
The local government's response to the fire has come under heavy criticism for its slow and lackluster rehousing program. According to NPR, since the fire, 139 families have been offered homes, however only 14 had been accepted and just three had moved in. Many of the families rejected the temporary housing as they would prefer something permanent nearby, BBC reported. It added that many families also rejected housing because the accommodations were not suitable "due to the size, location and disabled access."
According to NPR, authorities expect the recovery operation to continue until the end of the year.