North Korea may have the technology to strike Alaska. Here's how Alaska feels about that.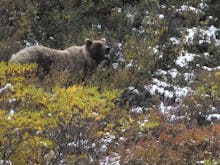 North Korea may have the ability to strike Alaska, and the state is looking to bolster its military presence just in case.
North Korea stoked international fears on Tuesday when it announced it had successfully launched an intercontinental ballistic missile. Though United States officials claim the missile poses no threat to the U.S., other experts believe it may have the range to reach Alaska and the Pacific Northwest, Reuters reported.
The U.S. government says it has every tool to defend against a potential ICBM. "We do have confidence in our ability to defend against the limited threat, the nascent threat that is there," Pentagon spokesman Navy Capt. Jeff Davis told reporters.
Still, Alaskan leadership would feel even more assured if there were a larger military presence on their turf.
"Recent news of North Korea's efforts to build up nuclear weapons capabilities underscores why it's so important to increase America's military presence in Alaska," Gov. Bill Walker said in a statement provided to Mic.
"My team and I are committed to ensuring that efforts to expand armed forces in our state include a strategic Arctic port. Given our proximity to growing foreign powers, and this week's test, that need is now more urgent than ever."
Sen. Dan Sullivan, who is also a member of the Senate Armed Services Committee, echoed Walker's statement, saying it's time Alaskans and the rest of the nation be prepared for any and all possibilities.
"Now more than ever, it's imperative for Alaskans and the rest of the nation that we be prepared," Sullivan said in a statement. "That's why I recently introduced a bill — the majority of which was included in the National Defense Authorization Act passed out of committee last week — that will significantly boost our missile defense capabilities and keep America safe."
The National Defense Authorization Act was actually passed prior to North Korea's missile test. As Sullivan's team explained via email, the act will add an additional 28 ground-based interceptors and add funding for the development of new space-based missile defense sensor technologies.
It appears the U.S. military isn't afraid to use every last inch of its military might against North Korea should tensions further escalate. Nikki Haley, U.S. ambassador to the United Nations, said in a Wednesday statement, "The U.S. is prepared to use the full range of our capabilities to defend ourselves and our allies."
Meanwhile, the threat of a North Korean attack doesn't seem to be fazing Alaskan locals.
"It's always been concerning that Alaska is an easy target for our enemies," Alyssa Wehrlie, a 30-year-old in Anchorage, told the Guardian. "If it's going to happen, it's going to happen."
Robert Church, a physician in Anchorage, questioned North Korea's capability.
"I was surprised they were able to get a missile to actually launch," he said. "I'm concerned about the threat, but I don't have a lot of confidence in the North Korea scientists making a functional rocket that could reach Alaska."