Philando Castile's classmates give out the first scholarship in his honor, one year after his death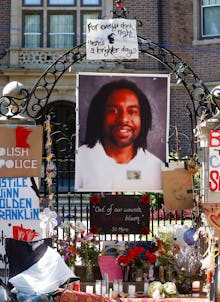 Minnesota's Twin Cities marked one year since the police shooting death of Philando Castile at a ceremony on Wednesday, where some of his former high school classmates awarded the first scholarship in his honor.
The group of alumni, who graduated with Castile in 2001 from Central High School in St. Paul, Minnesota, gave out the inaugural Philando Castile Memorial Scholarship of $5,000, Minnesota Public Radio reported.
The scholarship went to 2017 Central High graduate Marques Watson, who plans to attend St. Paul College, where he will study mechanical engineering for two years. Watson told MPR he would transfer to a four-year school after earning an associate degree.
"Before I received this scholarship, I had no way ... at all, that I was going to be able to help myself, and my family really has no money to help me," Watson said, according to MPR.
Castile's classmates announced the scholarship in August and said it would be awarded to a young man of color each year. A scholarship committee told MPR it hopes to establish a $100,000 endowment for the award — the committee has already raised over $50,000.
Castile was an employee of St. Paul Public Schools and was a food service worker at J.J. Hill Montessori Magnet School, right up until his death. He was shot and killed by St. Anthony police Officer Jeronimo Yanez, during a July 6, 2016, traffic stop. Yanez opened fire on Castile with his girlfriend, Diamond Reynolds, and her daughter in the car, as Castile was retrieving his ID.
The case drew national attention, in part, because Reynolds livestreamed the aftermath of the shooting to Facebook. Months later, a jury acquitted Yanez of manslaughter and weapons charges. After the June 16 verdict, the city of St. Anthony said it would seek Yanez's voluntary separation agreement.
On June 26, lawyers for the Castile family announced a $3 million settlement of their wrongful death lawsuit against St. Anthony and the police department. It's unclear if any of the settlement will be used to fund the Castile scholarship.