'Pokémon Go' Anniversary Update: 2017 event brings special Pikachu hat and new item box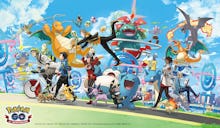 Niantic is doing its best to make 2017 the summer of Pokémon. Recently Pokémon Go added a huge gym update and raid battles, with a live event in Chicago coming later in July. The game also launched a year ago on July 6, 2016, sparking speculation. But will Niantic release anything for the game's one year anniversary?
Pokémon Go anniversary event: There's a cap-wearing Pikachu and special item box for the event
As we've previously reported, fans were confident that the new event would at least involve a new Pikachu. Siggraph 2017 promised to reveal a "rare Pikachu" and the game's code had a "one year anniversary" event tag as well. It looks like those who called a new special Pikachu were right on the money. According to Serebii, the event will begin today, July 6, and runs until July 24. During the event, you'll be able to catch a special Pikachu wearing Ash's hat.
If you're a little disappointed by such Pikachu-heavy news, take heart. The anniversary event will also allow players to buy Anniversary Boxes as well. Serebii stated that the box contains Incubators, Max Revives, Ultra Balls and a Raid Pass. It's pretty much a Pokémon Go care package. Even better, it's available at a discounted price during the event — no better time to put those coins to use.
While waiting for the event to drop, you can also weigh in on your favorite Pokémon Go moment on the official Twitter:
According to Serebii, the Anniversary Event starts today on July 6 and will go until July 24. Hopefully you'll catch a lot of special Pikachus and if not, there's always the promise of legendary Pokémon now in the game's code.
Update (7/6/17), 12:03 p.m.: The official Pokémon Go site has released a statement on the anniversary event. The event will begin today, July 6 at 1 p.m. PDT and end on July 24 at 1 p.m., and will include the special Pikachu and the Anniversary Box. Additionally, Niantic hints at upcoming live events happening in Europe in August and September, and a special "Pikachu Outbreak" in Yokohama, Japan, coming this August.
More Pokémon Go news, updates, tips and tricks
Raids are here! See why they may be the key to legendary Pokémon. Find out how to determine how long it will take you to reach level 40, and see what we think of the Gen 2 Pokémon added to the game. Here are the kinds of Pokémon you get from 10-kilometer eggs, and here's where you can check out what you missed during the Water Festival and Solstice events. Find out more about the upcoming Chicago event and why you'll probably be able to catch Unown while you're there — if you're not busy searching for rare evolutionary items, that is.