'Destiny 2' The Farm Gameplay: Original Tower social hub map is being replaced with a new area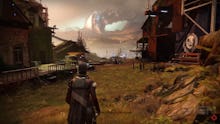 Destiny 2 is right around the corner, and developer Bungie has already shown off an important new part of the upcoming game, namely where players will meet and hang out, dubbed a "social space." It's called The Farm, and it's a resistance camp that's actually rife with chickens, rural charm and a whole lot of other decor you might not expect to see in a Destiny game, period. But it also has a certain something that makes it a much more peaceful, fulfilling place to hang out.
Destiny 2: The Farm as a social space
The new social area is a very pretty hangout, almost unexpectedly so, with several familiar set pieces from throughout the Destiny mythos dotting the area.
The Farm is meant to change over time as additional NPCs go to join those already milling about, such as Tyra Karn, the Cryptarch from the prior Rise of Iron expansion. In the future, you might see familiar faces like Shaxx from the Crucible.
But you won't only see NPCs there at The Farm. It'll be rife with up to 25 other players as well as activities for you to do here and there that are unique to only The Farm. As far as what these things will be (or which special abilities may be coming), that's relegated to any future announcements Bungie may have coming down the Destiny pipeline.
More gaming news and updates
Check out the latest from Mic, like this essay about the sinister, subtle evils lurking in rural America that Far Cry 5 shouldn't ignore. Also, be sure to read our review of Tekken 7, an article about D.Va's influence on one Overwatch player's ideas about femininity and an analysis of gaming's racist habit of darkening villains' skin tones.