G20 protests turn violent a day ahead of annual world leaders summit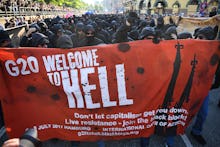 Planned demonstrations quickly turned violent in Hamburg, Germany, on Thursday, less than 24 hours before the start of the 2017 G20 summit.
German riot police fired water cannons and tear gas at hordes of black bloc protesters as skirmishes broke out downtown.
Fleeing protesters climbed fences and walls lining one Hamburg street as riot police made their way through the crowd attempting to break up the demonstration.
A call to action by the Autonomous and Anti-capitalist Alliance all but promised violence in the days leading up this year's summit, rallying under the slogan "welcome to hell."
"We are mobilizing internationally to turn Hamburg into a location and an exclamation mark of resistance against old and new authorities of capitalism," organizers wrote in a statement on their website.
"A demonstration at the G20 summit's eve will express protest and resistance, radical critique and practice against the patriarchal and capitalist state of affairs," they continued. "We are resisting the discursive priority of receptions and fireside chats during the days to follow."
Why are they protesting?
Clashes between left wing protesters and police have become an anticipated annual occurrence at the G20 summit ever since the yearly conference was first organized in the wake of the 2008 financial crisis.
The G20 nations created the summit to bolster global financial systems by promoting cooperation among 19 of the largest capitalist nations and the European Union on issues like international trade, commerce and geo-political problems.
Anti-capitalist activists view the G20 nations, their finance ministers and central bank governors as a cooperative oppressive force that exploit the poor and underprivileged. The Brookings Institution notes persistent income inequality and stagnant worker productivity as fueling the anger as well.
"[G20's] political bias stands for everything we are fighting against," protest organizers explain on their site. "The police and military are present on the roofs of Hamburg during the summit, and they are perpetuating capitalist regimes all over the world. Neo-liberal and protectionist capitalist models are both similarly part of global exploitation, walling-off and impoverishment."