Maine Gov. Paul LePage claims to feed fake stories to the media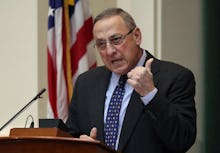 Maine Gov. Paul LePage insinuated that he feeds false stories to the news media, whom he called "vile," "inaccurate" and "useless" in an interview with Maine's WGAN-AM radio station, the Associated Press reported.
"I just love to sit in my office and make up ways so they'll write these stupid stories because they are just so stupid, it's awful," LePage said.
The Republican's comments came in response to news reports that he planned to take a vacation while his state's government is shut down amid budget negotiations.
LePage reportedly told two Maine lawmakers on Monday that he planned to leave the state, the lawmakers said.
"He could not have been more clear that he was leaving tomorrow morning for about 10 days," Maine Sen. Roger Katz, also a Republican, told the Press-Herald. "There was no nuance and no ambiguity about that."
But LePage denied he planned to leave the state and said that his remarks had been misinterpreted. He said he meant that his pen, not he, would take a vacation, an apparent reference to his refusal to sign a budget containing a tax increase.
LePage is no stranger to controversy. In January, LePage suggested to famed Civil Rights leader Rep. John Lewis (D-Ga.) that Republicans should be thanked for ending slavery.
In 2016, LePage was hammered by critics after suggesting men with names like "D-Money," "Smoothie" and "Shifty" were bringing drugs into Maine and impregnating white women.
He has also mocked immigrants and suggested using guillotines to execute drug traffickers.