Restoring ex-felon voting rights could overhaul the US political map, advocates say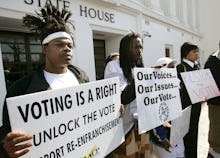 President Donald Trump's re-election bid in 2020 may very well hinge on whether people like Alabama pastor Kenneth Glasgow can vote.
Glasgow is the formerly incarcerated co-founder of the Ordinary People's Society, whose group is now working with the American Civil Liberties Union in multiple states to restore voting rights to former inmates with felony records.
The reform leaders are hosting a Voter Rights Restoration training session on Saturday in Selma, Alabama, fewer than two months after Gov. Kay Ivey signed a bill into law allowing many in the state with felony convictions to regain their right to vote if they meet certain guidelines.
Ex-felons convicted of treason or impeachment are excluded from the program. And those convicted of murder, rape or other felony sex crimes — including offenses related to pedophilia — face steep legal hurdles to get their rights back under the new law, according to the ACLU. So instead, the group is focusing on people who committed "more minor offenses" like theft, robbery, burglary and forgery, ACLU spokesperson Rebecca Seung-Bickley told Mic on Thursday.
"These are people who have served their time, completed their full sentence or have gone through probation or parole," she said. "They've made a mistake and paid a price. They want to go back to work and be apart of their community again and part of that is voting."
To the benefit of Glasgow and others, the issue of voting rights for ex-felons has enjoyed bipartisan support — Republicans like Rand Paul and Paul Ryan have backed legislation to help restore voting privileges to the formerly incarcerated, as have Democrats like Virginia Gov. Terry McAuliffe.
"At the end of the day, this is all about American citizens," Glasgow told Mic on Friday. "Any time your decision is based on how somebody will vote, there's something flawed with that decision. Everybody deserves to have their voices heard."
But Glasgow and his reform allies working in states like California, Kentucky, Michigan, New York, North Carolina, Virginia, Louisiana and Florida, aren't blind to the political realities of their efforts. (Neither are their opponents.)
The criminal justice system disproportionately convicts African-Americans with felony offenses, according to the Sentencing Project criminal justice reform advocacy group, which in 2016 found that state laws excluded an estimated 6 million Americans from voting due to felony convictions.
African-Americans overwhelmingly vote Democrat.
For more than eight years while Barack Obama was president, the Democratic Party ceded more than 1,000 state legislative seats and 12 governorships to Republicans across the United States, due, at least in part, to gerrymandering and ongoing efforts to suppress Democrat voter turnout in states like North Carolina under the guise of preventing voter fraud.
Restoring voting rights for people who have been convicted of a felony "can not only affect each and every local, county and state office, but it can sure enough effect the political parties in power," Glasgow said.
2020 stakes
Trump won the White House in November thanks to the electoral votes awarded from a handful of swing states, some of which he won by an extremely thin margin.
Some of those states are either considering, or have recently enacted, measures that would make it easier for former felons to vote or get their voting rights back.
In Florida, felony voting rights advocates won a major victory in April when the state Supreme Court approved language for a ballot initiative to add an amendment to the state constitution ensuring ex-felon voting rights.
Supporters of the measure still have to collect 766,200 handwritten petition signatures by December to put it on the ballot, but Desmond Meade, president of the Florida Rights Restoration Coalition, one of several groups working on the initiative, says his recent appearance on Full Frontal With Samantha Bee on TBS helped a lot.
"We definitely got a significant bounce from that," Meade said Friday about his appearance on the show. "We experienced a couple weeks where we were getting an overwhelming amount of petitions getting sent to our office. We're still trying to sort through them now."
Trump won Florida in November by fewer than 113,000 votes.
The Brennan Center for Justice estimates 1.6 million people, including about 20% of the state's black population, are being denied voting rights thanks to the 2011 executive action taken by Florida Republican Gov. Rick Scott.
That year, Scott rescinded the voting rights granted to former felons four years prior by his predecessor, Charlie Crist.
In the 2008 presidential election, a year after Crist's order, the Democrats and then-candidate Obama won Florida's 29 electoral votes for only the second time since 1976. (Bill Clinton captured Florida once in 1996.)
Florida voting rights advocate Rev. Greg James says Scott's executive order likely swung Florida for Mitt Romney in 2012 and helped Trump win in November. Now Republicans are working to do it again in 2020, according to James.
"Just this week they are still requesting voter information, just trying to do suppression," James noted, referring to the Trump administration's latest voter fraud commission efforts. "The governor is still trying to fight our felon voting rights effort, which is building momentum from people."
A boon for Democrats?
Meade and the Florida ACLU, however, aren't sold on the idea that re-enfranchising ex-felons favors Democrats.
The former drug addict and ex-incarceree who got his college degree in prison and has since earned a law degree emphatically declares that voter re-enfranchisement is an apolitical issue.
"We don't have any real data that shows how it's going to play out," Meade said. "Anybody who says otherwise doesn't know what they're talking about or has access to data that we'd love to see."
He said a rise of crystal meth abuse and the nation's opioid crisis, which has disproportionately affected white Americans, have resulted in more white men and women getting felony convictions for drug-related offenses.
With only 5% of the planet's population, yet more than 20% of the world's prison inmates, the United States is by far the world's largest jailer. And despite persistent racial disparities, nearly 60% of those who are incarcerated are white, Meade notes.
"A lot of people would be surprised to know there are three times more white people who are impacted by denying felons the right to vote than African-Americans," Meade said. "When you talk about our criminal justice system and how it's managed to touch so many lives, this issue touches so many people, especially in the state of Florida."