'Castlevania' Netflix producer Adi Shankar talks video games and the epic movie-mashup he never made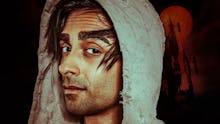 Fans of Castlevania, Konami's classic horror-fantasy video games series, have been waiting for its Netflix adaption since the series was announced back in February. Now it's finally here.
We had a chance to chat with series producer Adi Shankar about his creative process, the games he loves and his thoughts on the "Bootleg Universe" project he's famous for. He also talked about his dream collaborations and his biggest influences. By the end of the interview, one thing became clear: Shankar is a pretty rad dude.
Mic: What game are you currently playing, and what genre are you typically drawn to?
Adi Shankar: When I was younger (and had few people to play games with), I was really into RPGs (like Final Fantasy, Dark Cloud, Star Ocean, Wild Arms, Chrono Trigger and Diablo) because they were so immersive and they genuinely provided an escape from reality into another dimension. In college, I got really into the FPS genre, specifically Halo and then [Call of Duty] Modern Warfare/Black Ops because I had people locally on campus to destroy. Now I play well-executed and cute indie games like Skulls of the Shogun and Super Meat Boy.
There are individuals out there who denounce video games and don't see them as art.
AS: What's considered high art in the moment has no bearing on how history and future generations will view that same work. John Carpenter wasn't considered an "important filmmaker" in his day — yet John Carpenter inspired an entire generation of filmmakers and his aesthetic gave birth to the retro-synthwave genre. He wasn't understood because he was ahead of his time. You can't look at the indie video game Cuphead and tell me that ain't art. Those who don't view video games as an art form are on the wrong side of history.
Your fan films, like Power/Rangers and Judge Dredd: Superfiend, often outclass the official works, like the new Power Rangers movie. Any plans to make more of them?
AS: Yes. I have another edition of "The Bootleg Universe" [in development], I'm in post-production right now. It's ambitious and it's taken a lot out of me. For obvious reasons, I'm not going to say what it is. Studios should be on guard.
How do you approach the creation process?
AS: I'm still figuring my process out. I think people spend a lot of time trying to reverse engineer the process of success once they taste success. It's for that reason that first time success is often so crippling. My belief is that "the process" has little to do with success and an over reliance on "the process" leads to stagnation and a lack of innovation.
What steps do you take to always ensure the work you create is different from everyone else's out there?
AS: I just kind of try and make whatever I want to see but doesn't exist. That said, the film/TV industry has, at large, alienated young people, and so few young people are afforded the opportunity to create due to arbitrary barriers to entry. My aesthetic feels different because I'm "competing" with men who grew up in the '60s and '70s who had completely different pop culture references. By way of example: While I greatly respect them, my influences weren't/aren't Peckinpah, Leone or Bertolucci — my influences were Eminem, Diamond Dallas Page, Banksy, Warren Ellis, Murakami and Sephiroth.
Why do you think video games are usually doomed to terrible movie and series adaptations?
AS: Two reasons:
1. Video games are a new and fairly complex language. You have to organically have learned the language and if you're a gamer then the language comes second natural to you. Older people who have in the past adapted games play the games as research, but you can't learn the appeal.
2. There's a massive generational divide right now between people who make stuff and the people who watch it.
Do you have a dream project that you'd be excited to make a sort of love-letter film or short about?
AS: I almost made a G.I. Joe vs. Transformers Bootleg Universe one-shot. It would have been epic. It would have been so epic.
The animation style in Castlevania is very reminiscent of vampire-focused anime series like Hellsing. Are there any favorite anime series you looked to when working on the project?
AS: Lots of references to Vampire Hunter D and Ninja Scroll.
Do you have any anime series that you'd love to adapt into a live-action project someday?
AS: Yes: Gundam Iron-Blooded Orphans. However, the Gundams would have to retain the exact look from Mobile Suit Gundam. No tribal-tattoo-styled Transformers allowed.
Any other video games you'd love to adapt into a live-action project someday?
AS: StarCraft: Ghost. How did that game never come out?
More gaming news and updates
Check out the latest from Mic, like this essay about the sinister, subtle evils lurking in rural America that Far Cry 5 shouldn't ignore. Also, be sure to read our review of Tekken 7, an article about D.Va's influence on one Overwatch player's ideas about femininity and an analysis of gaming's racist habit of darkening villains' skin tones.