This Black Lives Matter chapter just clapped back at the NRA with a biting ad of its own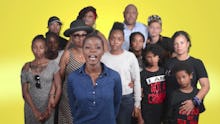 The National Rifle Association of America must stop airing its controversial ads that blast the Black Lives Matter movement and call for violence in response to their resistance, activists from a BLM chapter in Los Angeles said on Friday.
In a video response first shared with Mic, activists labeled the NRA's ad as "dangerous propaganda" meant to incite "gun-toting racists." Surrogates for the gun rights lobbying group have previously lashed out at activists and politicians who criticized its ad.
"When the NRA issues a public call to their constituents, inciting violence against people who are constitutionally fighting for their lives, we don't take that lightly," Funmilola Fagbamila, a member of BLM LA, says in the response video.
The widely criticized NRA recruitment ad features images of protesters in Baltimore amid unrest over the in-custody death of Freddie Gray and airports in the wake of President Donald Trump's first attempt at barring travel from several Muslim-majority nations. The video's narrator unambiguously blames the activists for the current climate of division and political discord.
"They use their ex-president [Barack Obama] to endorse the resistance," NRA spokeswoman Dana Loesch says in an ad first published to the NRA's YouTube page on April 7 and reposted on June 30. "All to make them march, make them protest, make them scream racism, and sexism, and xenophobia, and homophobia; to smash windows, burn cars, shut down interstates and airports; bully and terrorize the law abiding — until the only option left is for the police to do their jobs and stop the madness."
Loesch concludes by saying, "The only way we stop this, the only way we save our country and our freedom is to right this violence of lies with the clenched fist of truth."
In its video, BLM LA modeled their response after the NRA clip, set to an ominous soundtrack and dramatic lighting.
"They use their new president to enact a 'law-and-order administration,'" Fagbamila says in the response video. "All to make them shoot first, to make them ask questions later, make them scream, 'I thought he had a gun in his hand' and 'I feared for my life' and 'he matched the description of a suspect' and 'she was threatening us' ... until the only option left is for black people to disrupt the systems that keep us oppressed and build the kinds of communities in which we want to live."
Fagbamila then concludes the parody by saying, "The only way we stop this, the only way we save our communities and our struggle for freedom is to fight this violence with the raised clenched black fist of resistance."
At that point in BLM LA's video, they cut the dramatic music and gloomy lighting to elevate the families of victims of police violence. They feature a relative of Charleena Lyles, the black mother of four killed by police in Seattle on June 18. The group's video also mentions the case of Philando Castile, who was shot and killed by a Minnesota police officer one year ago.
On July 8, 2016, two days after St. Anthony police Officer Jeronimo Yanez killed Castile, the NRA called reports of the incident "troubling" but deferred commenting on Castile's case while it was under investigation. Castile, a legal gun owner who was licensed to carry in his state, told Yanez that he was armed during a traffic stop. Yanez opened fire on the 32-year-old public school worker anyway.
The NRA has yet to release further statement, even in the wake of Yanez's June 16 acquittal on manslaughter and weapons charges. Their silence has drawn criticism from other corners of the movement, and those comments have only intensified as the NRA's ad went viral in late June.
Prominent BLM activist Deray Mckesson slammed the gun lobbying group over the rhetoric in its ad, calling it "an open call to violence to protect white supremacy." Loesch, the NRA spokeswoman, responded to Mckesson via Twitter.
Women's March on Washington organizer Tamika Mallory has called on the NRA to get serious about advocating Second Amendment rights of black and brown gun owners. Mallory's open letter to the NRA, sent in late June, prompted a July 1 video response from conservative talk show host Grant Stinchfield.
"In the NRA's mission statement on their website, they say that they are one of the oldest civil rights organizations," Mallory said in a HuffPost interview published Thursday. "If you're following in the tradition of the civil rights movement, Philando Castile is an example of exactly what it means to defend the civil rights of a person who has been violated by this country."
On Friday, the Women's March organizers announced plans to stage a July 14 mass demonstration at the NRA headquarters in Virginia, to protest "incendiary and racist actions."
The NRA did not immediately respond to Mic's request for comment on Friday.
"Many of our folks continue to be harassed, threatened and killed," Patrisse Cullors, founder of the LA collective Dignity and Power Now, which produced BLM's response video, said in a statement to Mic. "We are tired of white supremacists calling for our death and we want the NRA to know we won't accept their bullying."