Top resume templates: These 3 beautiful resumes will give you the best shot at getting a job in 2017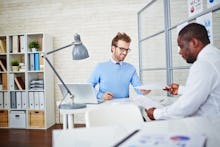 Perhaps you know what mistakes not to make on a resume, but what should you do to make your experience stand out from the rest? Are there key features every job seeker should include to catch recruiters' eyes?
First, some general advice: If you're sending the same exact PDF out to every prospective employer, you're doing it wrong. Customize your resume anew each time you send it out, as CareerBuilder suggests. Does the job call for someone to manage a budget? Highlight prominently how you managed $1 million budget at your last job. At least 63% of recruiters said a resume that is customized to the open position is more attention grabbing. Also, listing your skill set first on the resume was considered effective by 41% of recruiters, and 40% said they give resumes that come with cover letters more attention.
Attractive design is another key feature of a strong resume, so choose a clean, professional look, with margins of at least 0.7 inches and font size no smaller than 11 point, per Glassdoor. Make sure recruiters can easily spot vital areas like "work experience" and "education" without having to hunt for them due to a complicated resume design.
Most recruiters have to zip through resumes at a lightning pace, so it's important to include keyword language and a design that grabs the recruiter's attention, according to Vicki Salemi, a career expert at Monster: "For jobs you truly want to be considered for, it will be worth your time to look at the job descriptions and company's social media and website before applying."
When it comes to starting your resume, everyone should include a summary statement, experience, professional organizations, education and skills and certification, per the Muse. But, of course, great resumes will look different depending upon your profession and how far along you are in your career.
With that in mind, here are three examples of great resume templates — for three different types of workers — plus more tips on how to really stand out.
The best resume for a 20-something
One way to organize your resume is to start with a clean, smart design that makes it easy for the recruiter to contact you immediately, according to Glassdoor. Next, knock the recruiter's socks off with your relevant experience — highlight key soft and hard skills close to the top and use keywords from the job description to punctuate relevant experience.
Start with the most important experience and be as specific as possible. If you are going for an accounting job, list it as "accounting experience," for instance.
While weaving extracurricular activities into a more seasoned resume may seem somewhat odd, including clubs and community involvement on your new resume looks great to recruiters if you are a younger applicant. You could title the section as "leadership" and include that you were president of the environment club in college, for example, especially if you are looking for a job in environmental sciences.
Finally, in the education section, don't forget to include any certifications — plus your GPA if you graduated at the top of your class, Glassdoor advises. Here's a sample resume, great for someone with limited work experience:
If you are really inexperienced, you might consider a skills-based resume, explained here by Mic.
Or are you not sure how, exactly, to design your resume? These resume apps can get you started right away.
The best resume for a mid-career worker
Just because it's not your first rodeo, doesn't mean you can't benefit from a resume refresh. Sure, you have experience, but is your resume 2017-ready? Older workers already face ageism, and are less likely to get jobs, even if their resumes are otherwise identical to those of younger workers, one study found. While this bias is unfair (and potentially illegal), you don't want to further stack the deck against yourself with a novel-length resume written in a font that screams "typewritten in the 1950s!"
One key move? Make sure you knock the recruiter's socks off with the first few lines in the summary. "The top one-third of your resume is what a recruiter or hiring manager scans to determine if they will read the rest … and they only give it three seconds," career coach Jennifer Braganza told Time.
From there, you want to keep it snappy, and limit yourself to two pages maximum. Here's a resume example that does that, via Marc Cenedella, founder of Ladders. (Zoomed-in view here, via Business Insider.)
Make sure your summary includes quantifiable information, Salemi said. "Instead of saying that you managed a department, say that you managed a team with 10 direct reports, and five vendors, while conducting informal performance reviews on a quarterly basis," she said. If you managed budgets, specify the budget amount.
Since you have experience, customize your resume to fit the job your seek. "Match the job description to your qualities and customize your resume to fit what the company needs," Salemi said. If having a Ph.D. is a deal-maker (or breaker), make sure it's listed right away — or not at all.
Worried about a gap in your resume? Don't be shy about providing the recruiter with a little background. "Rather than make the recruiter guess what happened, add a line about what you were doing during the time you weren't working," Salemi said. And if you need more inspiration, this BI template is also great for mid-career workers.
The best resume for creative workers
Of course your portfolio is important, but what about showcasing your creative flair in your resume itself? Applying for a creative job gives you more leeway to get a little freer with your resume design.
While you should include the key information as soon as possible, the structure and delivery can really pop. For example, if you are applying to be a computer designer, create an interactive resume that not only tells the recruiter what you are all about but shows them. This vibrant, interactive gaming-style resume by designer and illustrator Robby Leonardi, for instance, showed he truly had the chops for a designer job he sought.
Here's another sample, from a graphic designer, that used the "show-don't-tell" method of highlighting her experience and skills:
And although you can deliver a hipper resume than what conventional job seekers do, don't get too cute, The Creative Group warns. Overly gimmicky resumes may be a turn off: The sweet spot is a resume that actually demonstrates your unique skillset — no more and no less.
Researching what excites the particular company (or industry professionals) may be the secret to striking that balance. For instance, when looking for jobs in art direction, Casper Christensen and René Schultz told the Creative Group that they knew that the magazine Archive was a coveted publication at most creative companies. So they turned their joint resume into a mock copy of the magazine — and sent it to a group of art directors. Not only was the resume well received, but some art directors even took it for the real deal at first.
Sign up for the Payoff — your weekly crash course on how to live your best financial life. Additionally, for all your burning money questions, check out Mic's credit, savings, career, investing and health care hubs for more information — that pays off.