'PlayerUnknown's Battlegrounds' Delayed: Why 'PUBG' isn't coming off Steam Early Access in October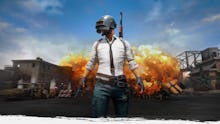 PlayerUnknown's Battlegrounds is going to be launching with its full, complete version later than developer Bluehole previously planned. While it was originally meant to launch in October, it's now been rescheduled for a vague "end of Q4 2017," according to Brendan Greene, who you might know better as PlayerUnknown.
PlayerUnknown's Battlegrounds: Why the game has been delayed
In a recent blog post, Greene offered an explanation for pushing back PlayerUnknown's Battlegrounds further out.
"I've come to realize that restricting the window to a specific month could hinder us from delivering a fully featured game and/or lead to disappointment within the community if the launch deadline is not met," he wrote, adding that the team has "decided" they will be pushing the full launch back "a bit."
"[We] want to assure you that we are still planning a full release before the end of Q4 2017."
If you were looking forward to playing through the complete game by October, unfortunately that's not going to happen. This statement doesn't exactly specify whether or not this means the game will indeed be out by the end of the year or not, so hopefully Q4 2017 actually means the year's end in this case.
If you've been playing the game, however, you're probably acutely aware of how much there already is to do and how many people are playing the game at any given moment already, so it could end up being a good thing that the full release is delayed. We'll report additional information as we receive it.
More gaming news and updates
Check out the latest from Mic, like this essay about the sinister, subtle evils lurking in rural America that Far Cry 5 shouldn't ignore. Also, be sure to read our review of Tekken 7, an article about D.Va's influence on one Overwatch player's ideas about femininity and an analysis of gaming's racist habit of darkening villains' skin tones.