Nintendo Switch Keyboard Controller: Cyber Gadget's new dock brings typing to your Joy-Cons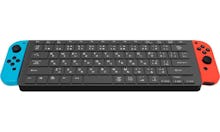 If you're like me, you're not a huge fan of playing with the Joy-Con controllers with your Nintendo Switch. When I'm gaming with the handheld, I prefer using the Pro Controller. But occasionally I need to type things in if I'm going to use any share features or things of that nature. That's why Cyber Gadget's upcoming new peripheral would be such an interesting augment for me.
Nintendo Switch Keyboard: How to get Cyber Gadget's Joy-Con keyboard accessory
Cyber Gadget is introducing a Joy-Con dock that's essentially a keyboard. You're meant to dock your Joy-Con controllers, both left and right, to both sides of the board. It unfortunately won't charge the Joy-Con controllers, but it does allow you to have a full-fledged keyboard at your fingertips so typing isn't such a pain.
You can also use it with the PlayStation 4 and PC, though there's not much use there if you've already got a keyboard for your PC, assuming you obviously already do. This one just looks a whole lot cooler, especially if you have the neon Joy-Con controllers like I do, which are undoubtedly my favorite thing about the Switch, aesthetically speaking.
The keyboard is releasing in Japan near the end of September for about 3,578 yen. If you're interested in picking one up, you'd better keep an eye out for one on Amazon.co.jp or similar digital storefronts.
More gaming news and updates
Check out the latest from Mic, like this essay about the sinister, subtle evils lurking in rural America that Far Cry 5 shouldn't ignore. Also, be sure to read our review ofTekken 7, an article about D.Va's influence on one Overwatch player's ideas about femininity and an analysis of gaming's racist habit of darkening villains' skin tones.