'Ark: Survival Evolved' Price Increase: 'DayZ' developer Dean Hall speaks out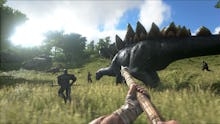 Ark: Survival Evolved launched on Steam Early Access in June 2015, and has been involved in various controversies ever since. While it consistently places in the top 10 most played games on Steam, reviews have been mixed, and developer Studio Wildcard's latest move hasn't helped bring any positivity.
On July 6, Ark: Survival Evolved jumped in price from $30 to $60. Making Ark's price equal to that of a finished AAA game while it's still in an unfinished state has riled more than a few people up, including DayZ creator Dean Hall.
Ark: Survival Evolved price increase: From the perspective of a fan and someone who works in the video game industry
While Hall's tweet on the price hike may seem harsh, Hall himself is familiar with the Steam Early Access model, and DayZ has had its share of controversies. Hall did continue to say that he is a "huge fan" of Ark: Survival Evolved and thinks the game will be worth the money they're charging when it reaches a stable state.
PC Gamer reached out to Hall to ask what he thought justified a $60 price point:
I put a pretty high expectation on a "AAA" price. Many focus obsessively on how long a game is in early access but I would far rather a game take as long as it needs in Early Access to be bug-free rather than a rushed development and then a rushed price increase. I believe Ark, like DayZ or any other Early Access game, should remain in Early Access until it achieves the expected performance and bug standards of its price.
I play the game exclusively on permadeath so the bugs killing you are just so much harsher for me!
Ark: Survival Evolved price increase: Studio Wildcard's reasoning for the hike
On the flipside of the story, Polygon got in touch with Studio Wildcard for comment on why it made the decision to raise the price by $30. According to Studio Wildcard, the plan had always been to raise the price of Ark: Survival Evolved to $60 when the game left Steam Early Access for a full release.
Studio Wildcard stated that retailers wouldn't allow a price discrepancy between physical and digital copies. It would be unable to take any preorders unless they increased the price of the digital version of the game. The studio said they needed to be able to take preorders now to ensure that simultaneous release.
Ark: Survival Evolved price increase: The takeaway
Anyway you cut it, there's always risk involved when getting involved with a product on Steam Early Access. There's never a guarantee that a game is going to be finished, and if it is finished there's always a chance the end product is very different than you envisioned it would be.
There are more than a few games that I've purchased on Steam Early Access that have all but been abandoned by their developers, split into multiple products or turned into pay-to-win titles. However, I've learned to look at Steam Early Access purchases as an investment as opposed to buying a whole game. You get something to play and the potential for a great return, but you also have a chance to lose it all. Whether Ark: Survival Evolved will be the former or the latter is something only time will tell.
More gaming news and updates
Check out the latest from Mic, like this essay about the sinister, subtle evils lurking in rural America that Far Cry 5 shouldn't ignore. Also, be sure to read our review of Tekken 7, an article about D.Va's influence on one Overwatch player's ideas about femininity and an analysis of gaming's racist habit of darkening villains' skin tones.