'Mega Maker': Create your own 'Mega Man' levels with fans' answer to 'Super Mario Maker'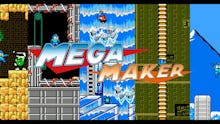 Super Mario Maker burst onto the scene and immediately made several fans, especially when it came to people who have a penchant for fan-made levels and other inventive creations. What if you could take that same concept and apply it to Mega Man to make a Mega Maker?
It may seem like a pipe dream, especially if you're looking for something like that from Capcom, but a group of dedicated fans have been working hard to make it a reality. Mega Maker is an impressive tool you can use to create your very own Mega Man levels, and it looks just like the real thing might if Capcom ever decided to give fans what they really want. Seriously, it looks great.
Mega Maker: Make your own Mega Man levels your way
Mega Maker features an impressive array of tools for would-be game developers to use when creating their personalized Mega Man levels, including assets from Mega Man 1-6. As the trailer states, there are 129 tilesets, 40 backgrounds, 26 level objects, 46 enemies, 12 bosses, 63 music tracks and more you can use to whip up your own creations.
What's more, you can use the mouse to make the levels you've always wanted to instead of having to resort to a stylus, so there's a little more precision than you'd have with Super Mario Maker. And as with Super Mario Maker, you can sort and browse through levels others have created as well.
Mega Maker is poised to burst onto the scene on July 15, so you'd better go ahead and download it the same day, considering fan projects like these get shut down almost immediately. With one this impressive, it's sure to vanish, so make sure you get in on the action before the plug likely gets pulled. Fans are really awesome people, you know?
More gaming news and updates
Check out the latest from Mic, like this essay about the sinister, subtle evils lurking in rural America that Far Cry 5 shouldn't ignore. Also, be sure to read our review of Tekken 7, an article about D.Va's influence on one Overwatch player's ideas about femininity and an analysis of gaming's racist habit of darkening villains' skin tones.