Trump attorney wants sexual assault accuser's lawsuit dismissed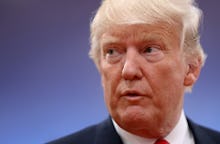 Marc Kasowitz, attorney to President Donald Trump, is deflecting a defamation lawsuit aimed at his comb-overed client by arguing that statements made in the course of a "fiery" campaign don't mean anything.
Specifically, Kasowitz is referring to a suit filed in July by former Apprentice contestant Summer Zervos, who maintains that Trump grabbed and kissed her when she showed up to what she thought was a business meeting in 2007. After the pussy tapes dropped in October, Zervos became one of 11 women to publicly accuse the now-president of sexual assault.
Trump subsequently attacked these women, calling them liars and assorted other names and denigrating their looks. He also urged his devotees to look up at least one of his accusers on Facebook.
Appearing alongside her lawyer, women's rights advocate Gloria Allred, in a November press conference, Zervos said Trump's characterizations meant she was "threatened, bullied" and that she "saw [her restaurant] business targeted." Zervos is the only one of Trump's accusers to have sued him, and has said she's doing so not to make money, but to reclaim her good name.
In a lengthy court filing, Kasowitz classified Zervos' accusations as "scurrilous," "false and scandalous," arguing her lawsuit should be dismissed on the grounds that exaggerated campaign rhetoric can't be taken seriously.
"The allegedly defamatory statements were made during a national political campaign that involved heated public debate in political forums," Kasowitz wrote. "Statements made in that context are properly viewed by courts as part of the expected fiery rhetoric, hyperbole and opinion that is squarely protected by the First Amendment."
Kasowitz also contended that a sitting president can't be sued in a state court, thanks to the Constitution's Supremacy Clause. As the Washington Post reported, the Supreme Court did allow Paula Jones to sue former President Bill Clinton for sexual harassment in 1997, but that was a federal suit; Zervos filed hers with the New York State Supreme Court.
In May, the Boston Globe reported that 134 federal lawsuits had been filed against Trump since his Jan. 20 inauguration. According to USA Today, Trump has been involved in 3,500 lawsuits in the past 30 years, making him the most litigious president in history. And certainly, this isn't the first time the possibility of a defamation suit has arisen during his administration.
In March, when Trump tweeted the sensational and, apparently, unfounded assertion that former President Barack Obama had wiretapped the phones in Trump Tower, John Culhane — an expert in constitutional law and a Slate contributor — wrote that, while a libel suit against the current president would be a tough win, it wouldn't be an impossible one.
Whether the lawsuit would succeed isn't the only important point, though. Trump's "fiery rhetoric, hyperbole and opinion" meant enough to rally attendees that some, encouraged by the candidate to "knock the crap out of" his opponents — and promised their legal bills would be covered — physically assaulted perceived foes. Words have consequences, especially when they come from the mouths of world leaders.