'Deus Ex' Mods: GMDX 9.0 release brings the cyberpunk classic into the future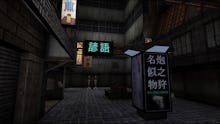 The original Deus Ex is a classic, one that I spent several hours with as a younger gamer, but it hasn't aged that well. Enter GMDX (Give Me Deus Ex, of course) a mod for the original Deus Ex that aims to give the game a glorious HD update with a bushel of additional tweaks, such as changes to the UI, graphics, AI and other augments that would give even protagonist JC Denton a run for his money.
Though the mod itself has been around for about four years, it's recently welcomed its latest iteration in the form of GMDX 9.0, which is available now for you to download.
Deus Ex Mods: GMDX 9.0 mod has just released
The latest version of the GMDX mod, GMDX 9.0, includes advanced artificial intelligence, new effects, animations, graphics and more. The team behind the mod has also worked to improve the game's physics engine, RPG systems, weapons and more. There are even changes to difficulty settings, if that's something you're interested in seeing altered.
GMDX states that the entire point of the mod is to "enhance the player experience wherever possible" and not to "change the fundamental core of Deus Ex, but rather to dig deeper" and "more fully achieve and build upon the creative vision" from the Deus Ex team. From the look of things, the people behind GMDX 9.0 are doing just that.
As you can see in the three-minute long release trailer, it's almost as if Deus Ex were a game released in the past couple of years or so. And if you've only ever played games like Deus Ex: Human Revolution or the other, newer iterations, you're missing out. Whether you're a Deus Ex newbie or are looking to rediscover the classic game, you'll want in on this free mod, which you can download here.
More gaming news and updates
Check out the latest from Mic, like this essay about the sinister, subtle evils lurking in rural America that Far Cry 5 shouldn't ignore. Also, be sure to read our review of Tekken 7, an article about D.Va's influence on one Overwatch player's ideas about femininity and an analysis of gaming's racist habit of darkening villains' skin tones.