BET's 'Hit the Floor' isn't the only show with an all-female writing team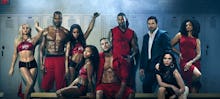 The basketball-centric series Hit the Floor is in for a number of exciting changes as it heads into its fourth season. Not only is the show moving from VH1 to BET, creator James LaRosa just announced the writing staff will now be made up entirely of women.
For those who haven't checked it out yet, the series is about a fictional Los Angeles basketball team and the drama that ensues between the players and the women on the team's dance squad. While previous seasons have received mixed reviews along the lines of "so bad it's good," an all-female writing staff could turn that around. Women writers could help find new ways to bring drama to the series without resorting to cat fights and gender stereotyping.
While season four's premiere date has yet to be announced, this development in Hit the Floor's writers room is worthy of celebration considering the percentage of female writers working today. According to a 2016 Writers' Guild Report, only 26% of TV and film writers are women. In terms of female showrunners, the number jumps down to 11%. As such, shows like Hit the Floor that are making a concerted effort to bolster women writers are helping to change the scenery.
Writers rooms that are solely populated by women may be few and far between, but more and more shows are beginning to make that forward-thinking choice. Here are four others to check out.
The new Amazon series about a married husband and wife who both fall for the same professor named Dick was both created by women and written by women. Co-creator Jill Soloway told The Playlist that it makes a big difference when there are no men in a writers room.
It was great because I think a lot of women had been the only woman in other writers rooms. Like the only girl in the car, the only girl in the room. And had been trying to play the role of 'Be game. Be funny. Don't offend. Be careful what you say.' So, for them to be able to look everyone in the face and say, 'There's another woman' got things going really lose really fast.
Created by the inimitable Ava Duvernay, Queen Sugar is about three siblings whose deceased father leaves them an 800-acre sugar cane farm in Louisiana. While the series does have two male producers with writing credits, the staff writers are all female.
But Duvernay didn't stop with the writers room. Season two of the show will be helmed by three queer female writers. It's just one more way in which the showrunner is doing her part to diversify the entertainment world.
It may seem counterintuitive for women to fight masculine oppression with a show about the lives of prostitutes, but that's exactly why the creators felt it was important to write about. It's not commonly known that prostitutes in 18th-century England actually had a certain amount of power.
"If you were the daughter of a wealthy aristocrat and you married somebody else, your fortune instantly became his fortune," Hayward told Flavorwire. "Prostitution then was one of the only ways that women could be socially mobile."
An all-female writers' room no doubt contributed to the female characters' strength and complexity.
The entire two seasons of Netflix's quirky comedy Chewing Gum were written solely by series star Michaela Coel. The show's about an oddball 24-year-old woman named Tracey, who's desperate to lose her virginity and gets into all sorts of shenanigans in the process.
While Coel has said the show isn't autobiographical, much of the awkward humor seems to be inherent to her. "I'm way too honest," she told Rolling Stone. "It can backfire. I think you could do another kind of comedy like this that's not awkward. But I don't know how to do that."
Mic has ongoing TV coverage. Please follow our main TV hub here.