Without immigrants, the ice cream cone would not exist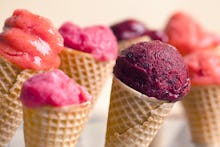 This week, Out of Office is celebrating all things ice cream. Follow along as we explore the sweet history and unexpected influences of America's favorite dessert.
Whether you prefer sugar or waffle cones — a recent survey by the International Dairy Foods Association found that the world is evenly split — there's no denying the appeal of the edible ice cream vessel. This summer, as your ice cream (likely vanilla if you're like the rest of America) drips down the sides of your preferred cone, take a moment and thank the brilliant innovators who brought you this incredible edible creation more than a century ago.
A wafer or waffle cookie has long accompanied ice cream, as evidenced by Charles Francatelli's 1846 book Modern Cook, where he described a dessert called "wafer-gauffres," which was a cookie filled with "filbert-cream-ice," or crystallized hazelnuts, according to Time. However, this cookie was used simply as a garnish to the creamy frozen dessert, and was meant to be enjoyed only by the upper class. It wasn't until the turn of the 20th century that the handheld cone we know today was introduced to the American dessert-loving public.
Peggy Armstrong, vice president of communications for the International Dairy Foods Association, explained in an interview that there are two distinct men of honor in the annals of American ice cream cone history. The first is an Italian immigrant named Italo Marchiony.
"Marchiony came to America in the late 1800s," Armstrong said. "He invented the ice cream cone in New York City and was granted the first patent in December of 1903. So he gets credit for the first."
His cone, Armstrong said, is more or less the flat cake cone served at ice cream shops today. However, there was another man, Syrian immigrant Ernest A. Hamwi, who accidentally introduced his waffle cone creation at around the same time.
Describing it as her favorite story, Armstrong explained that Hamwi was a cookie maker who had a stall at the St. Louis World's Fair in 1904, where he was making zalabia, a popular Middle Eastern desert akin to fried dough, according to the book, Of Sugar and Snow: A History of Ice Cream Making. As luck would have it, Hamwi was placed right next to an ice cream vendor.
"It appeared that the ice cream maker had enough ice cream, but not quite enough dishes," Armstrong said. So Hamwi seized the opportunity to take his crisp, waffle-like pastry to the stall next door. He took the warm confection out, folded it into a cone and allowed it to cool. Then, the ice cream maker put his sugary sweet treat inside, and that's when the waffle cone was born. Sadly for the ice cream maker, he never got any acknowledgement for the culinary combination and faded into history.
"The ice cream cone is really a story about our rich immigrant culture," Armstrong said. "We have an Italian immigrant doing one kind of a cone and a Syrian making another. And because it was the height of the industrial revolution, they were able to move those two popular forms of ice cream products into mass production."
The roots of the cone run even deeper into America's immigrant history than Hamwi and Marchiony. In fact, there are more than a few origin stories to this famed desert.
As more ice cream lore describes, Abe Doumar, a Lebanese immigrant, allegedly gave Hamwi the idea for the cone after explaining how in his homeland people would roll flat pita bread and stuff it with jams and other sweets. Another potential inventor is David Avayou, a Turkish immigrant who was hired by a department store to roll ice cream cones after he was inspired by paper and metal cones on a trip to France.
"The ice cream cone is really a story about our rich immigrant culture."
"I think it was new, and you had people trying to show new products," David George, CEO of Joy Cone, said in an interview about the history of American immigrants and the ice cream cone. "Obviously immigrants have a big influence when it comes to food as well."
George's grandfather, Albert George, was a Lebanese immigrant who came to the United States with a fourth-grade education, according to his grandson. "He didn't know how to read or write in English when he got here," he said. "But he was an enterprising individual."
Albert started the Joy Cone company with a fellow Lebanese immigrant in 1918. Today, the company is the largest cone producer in the world, thanks in large part to its partnership with Dairy Queen in the mid-'70s.
George said that Joy Cone now employs roughly 1,000 employees across the country, who are all also partial owners in the cone business as the company transitioned to an Employee Stock Option Plan several years ago.
And cone experts may want to stay at Joy Cone forever. As George explained, the business of cone-making has really whittled down to just two major brands: Joy Cone and Keebler.
"Like a lot of industries, the cone industry has seen some real consolidation," George said. "Thirty years ago there were probably 20 cone companies in the United States. And really, today, there's only two large ones, us and Keebler, which is part of Kellogg. And then you have two or three smaller operations in the United States."
Cone companies like Joy and Keebler produce an estimated 150,000 cones every day, according to Armstrong, producing styles hearkening back to both Hamwi's and Marchiony's culinary inventions.
"Ice cream is like, well, hot dogs and apple pie," George said with a chuckle when asked about America's continued love affair with his grandfather's product. "And what better way to have ice cream than with an ice cream cone?"