Chicago officers accused of covering up Laquan McDonald shooting plead not guilty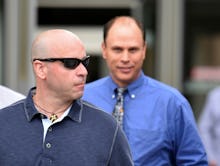 Three of the officers involved in the Chicago police cover-up of the fatal police shooting of Laquan McDonald pleaded not guilty to related charges on Monday.
Former Chicago detective David March, former officer Joseph Walsh and suspended officer Thomas Gaffney all declared their innocence during their court appearances Monday morning, CBS Chicago reported.
All three men were released from custody on $50,000 bonds.
Judge Margaret Broznahan recused herself from the case Monday for unspecified reasons, NBC News Chicago reported.
The trio of officers is accused of conspiring and lying about how and why their fellow officer, Jason Van Dyke, shot a knife-wielding McDonald 16 times on Oct. 20, 2014.
Van Dyke, who has been suspended without pay since being charged in November 2015, was indicted on first-degree murder charges in December, according to the Chicago Tribune.
Prosecutors added an additional 16 felony counts of aggravated battery in March, one for each bullet Van Dyke fired into McDonald's body.
Former detective March, 58, was the lead detective at the scene when officers engaged McDonald after responding to a call about a teenager slashing tires, according to CBS.
March ruled Van Dyke was justified in shooting McDonald. The officers' official report stated McDonald was moving to attack Van Dyke with a knife, falsely stating the teen was swinging his weapon "in an aggressive manner."
Dashcam video released later showed McDonald was fleeing from responding officers and appeared to be holding a knife when he was shot by Van Dyke, who continued shooting the 17-year-old even after his motionless body laid on the ground.
Special investigators recommended 11 Chicago officers be fired over the McDonald case. Chicago Mayor Rahm Emmanuel fired police superintendent Gary McCarthy on Dec. 1, 2015, just a few months after the city paid a $5 million settlement to McDonald's family in June 2015, according to DNAInfo.