NRA breaks its silence on Philando Castile: "It's a terrible tragedy that could have been avoided."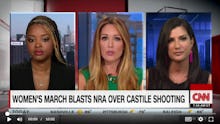 The National Rifle Association finally addressed the police shooting death of licensed gun owner Philando Castile on Sunday after remaining silent about the case for more than a year.
Conservative talk radio host and NRA spokesperson Dana Loesch engaged in a heated exchange on CNN with Women's March co-organizer Tamika Mallory, who recently wrote a letter to the gun rights group's CEO Wayne LaPierre condemning his silence on the Castile tragedy.
Loesch initially deflected the claim that the NRA has remained silent about Castile's death by referencing her own alleged statements on the case.
"I've actually spoken out quite a bit on this," she said. "I think it's absolutely awful. I think it's completely unfortunate. I don't agree with every single decision that comes out from courtrooms in America."
She continued, "Do I believe that Philando Castile deserved to lose his life over a stop? I absolutely do not. I also think that this is why we have things like NRA Carry Guard ... to work with law enforcement so they understand what citizens are experiencing when they go through stops like this."
Activists have accused the NRA of declining to speak out about the Castile shooting because he is black and his killer was a police officer. Some of the group's members have criticized it as well.
"If in fact the NRA was an organization that represents all people, why would you not have a response to Philando Castile?" Mallory wrote in her letter.
Castile was shot to death by St. Anthony, Minnesota, police officer Jeronimo Yanez on July 6, 2016, after informing the officer he was legally carrying a concealed firearm and following Yanez's initial command to present his driver's license.
Yanez was fired by the St. Anthony village police department on June 17, a day after being acquitted on manslaughter charges for killing Castile. Loesch went on to suggest Castile was at fault in the fatal encounter by improperly providing his concealed carry permit when instructed to do so by officer Yanez. Prosecutors determined Yanez' use of deadly force was "excessive" and "inappropriate."
"I just want to make sure that when individuals, when we're pulled over, that we have our concealed carry permit card," Loesch said. "So we don't have someone who, perhaps, maybe doesn't make all the right decisions when they go through a stop."
Mallory interjected, attempting to clarify whether Loesch was speaking on her own behalf or as a spokesperson for the NRA.
"We're not looking for her personal feelings," she said.
"I'm speaking for NRA membership right now," Loesch responded. "I'm an NRA spokesperson. That's why I'm here ... It's a terrible tragedy that could have been avoided."
Recently, the NRA produced a controversial ad in which a narrating Loesch laments about people rioting in the streets. The group's PSA called for NRA members to "fight this violence of lies with a clinched fist of truth." Black Lives Matter activists have criticized the NRA ad for inciting violence against peaceful protesters.
"The same effort that was put into this ad, that has been put out, that is dangerous to black and brown people and protesters, we want to see the same type of effort and energy put into speaking on behalf of Philando Castile," Mallory said.
"We have been," Loesch interjected, prompting an exchange that made the rest of her response inaudible.
Mallory offered to continue the debate later.
"We can talk in person," she said. "I have challenged you to a debate anytime."
Loesch deflected that Mallory should condemn her fellow Women's March co-organizer Linda Sarsour's misinterpreted statements about waging "jihad" against the Trump administration.
"Condemn Sharia," Loesch said before CNN cut her off.