Here's why Nevada is running out of weed just 10 days after legalization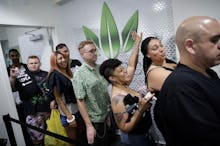 Nevada's newly legalized recreational marijuana program generated an astonishing $3 million in sales revenue and an estimated $1 million in tax revenue in just four days, the Reno Gazette-Journal reported.
At this rate, Nevada — which kicked off recreational sales on July 1 — could see $30 million in sales by the end of 2017, Fortune explained. However, all that money may go up in smoke if regulators can't figure out how to distribute the product.
"There's plenty of marijuana in the state," Cyrus Farudi, president of Franklin BioScience, a holding company that owns both Lucky Edibles and Altus Labs, said in an interview. As Farudi explained, a legal battle between the Department of Taxation and liquor distributors has caused a complete halt of any recreational marijuana deliveries to the 47 licensed retail marijuana stores in the state.
In November, voters approved Question 2, legalizing the sale of recreational marijuana. Though the initiative was meant to kick off on Jan. 1, 2018, the state pushed to get it started earlier to meet Gov. Brian Sandoval's proposed budget request, according to the Las Vegas Review-Journal.
"If we don't have a temporary program, we will not have the revenue that's included in the governor's budget," tax department director Deonne Contine told the Review Journal.
However, the initiative called for a system of separate licensed retail stores and distributors, so no one company could grow, distribute and sell the product. Instead, according to the law approved by voters, only alcohol distributors can distribute recreational marijuana for the first 18 months. Nevada is the only state with legalized recreational marijuana with this arrangement, Business Insider reported.
As the law states:
For 18 months after the Department [of Taxation] begins to receive applications for marijuana establishments, the Department shall issue licenses for marijuana distributors pursuant to this chapter only to persons holding a wholesale dealer license pursuant to chapter 369 of [Nevada Revised Statutes], unless the Department determines that an insufficient number of marijuana distributors will result from this limitation.
But it's that last sentence, "unless the Department determines that an insufficient number of marijuana distributors will result from this limitation," that's causing all the trouble.
Following the vote in November, Department of Taxation officials asked liquor distributors if they were interested in distributing marijuana. About 15 of the 67 distributors responded yes, they were interested, Nevada Independent reported. But on March 16, the department announced it had an insufficient number of distributors so it would open distribution to marijuana establishments as well.
Liquor distributors quickly took issue and filed suit to stop any other parties from distributing. On June 20, Carson City Judge James Wilson, Jr. ruled on the side of the distributors and granted a preliminary injunction halting the Department of Taxation from issuing any marijuana transportation permits to anyone other than licensed liquor distributors.
Still, both the government and shops pushed forward with the July 1 opening date.
"People knew this was happening so people stocked up," Farudi said, noting that there was a small run on their product before the July 1 start date.
But even with stockpiling product, the sales of recreational marijuana far exceeded everyone's expectations. And now, some shops will run out of product in a matter of days. To help mitigate the potential tax revenue loss, the Department of Taxation issued an emergency declaration, which is also endorsed by Sandoval, that could allow officials to consider a larger pool of applicants for distribution licenses.
"Without the retail sale of marijuana, the state will not realize the revenue on which the state budget relies," the document states.
Additionally, department spokeswoman Stephanie Klapstein told the Gazette-Journal, if sales of marijuana stop, businesses will be forced to shutter or even lay off staff.
"Unless the issue with distributor licensing is resolved quickly, the inability to deliver product to retail stores will result in many of these people losing their jobs and will bring this nascent market to a grinding halt. A halt in this market will lead to a hole in the state's school budget," she said.
However, according to Kevin Benson, the lawyer representing the liquor distributors, there is no "legitimate emergency for the department to fix."
"The Department of Taxation created this situation by unnecessarily rushing the process to start on July 1, which resulted in invalid regulations for distributors," Benson said via email. "If the new 'emergency' regulations take effect, and liquor distributors are not licensed in time, the department will allow the marijuana industry to vertically integrate."
And that vertical integration goes against the intent of the initiative that voters approved.
But even with recreational distribution up in the air, there's still one loophole to getting your weed. As Farudi explained, the distribution halt doesn't affect or apply to the medical marijuana industry, as they can still distribute to themselves. Moreover, Nevada has reciprocity, meaning you can bring a medical card from any state and still purchase your medical marijuana in any of the shops around the state.
But Farudi doesn't seem too concerned with the temporary halt, saying, "I think it's something Nevada will figure out. I don't think it's going to be a major issue. Everybody is aligned on wanting to get this done."