How to get free 7-Eleven Slurpees, Chick-fil-A, Krispy Kreme donuts & more food July 11 to July 18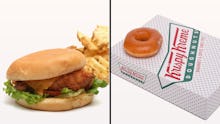 Exhausted and feeling a bit broke after shopping for deals on Amazon Prime Day — like a 50% off Alexa-enabled Echo or 60% off jeans? Put your wallet away: On Tuesday you can recharge for free with a 7-Eleven Slurpee and Chick-fil-A chicken sandwich, as both eateries are giving out freebies on July 11, coinciding with Prime Day.
If you want gratis nosh on Tuesday — and beyond — read on. Here are all the food deals and steals across the United States to know about this week.
Free Chick-fil-A meals
Now, to get your free Chick-fil-A entrée, you will have to do a little work. Since 2005, Chick-fil-A has celebrated Cow Appreciation Day, in which customers earn their grub by arriving at the restaurant dressed as — wait for it — a cow.
Of course you don't have to run out and purchase a full cow costume, but the restaurant does want to see some true effort in order to land the free food. Don't be too embarrassed to show up in cow ears: Chick-fil-A says more than 1,600,000 received a free meal in 2016.
Their advice is to arrive early. "Every year we are amazed at the number of customers who participate in Cow Appreciation Day," Jon Bridges, Chick-fil-A's senior vice president and chief marketing officer said in a release.
Free 7-Eleven Slurpees
After you've devoured your meal, ditch the costume and head over to 7-Eleven for a free Slurpee, the brand's iconic slushie, which the company says it is giving away to celebrate 90 years in business. The chain estimates it will give away 9 million free small Slurpee drinks Tuesday from 11am until 7pm, including the new cotton candy flavor.
On top of offering free Slurpees today, the store is marking the occasion all week. If you purchase seven Slurpees between July 12 and July 18, and use the 7-Eleven mobile app, you will then receive 11 future Slurpee drinks for free.
Discount donuts at Krispy Kreme and more
Can't make it out Tuesday? Not to worry, as other food chains have your back with giveaways, freebies and discounts this week. You can get a corndog from Wienerschnitzel for free when you text "hotdog" to 21333 for "a limited time only." And you can score a dozen donuts for 80 cents if you buy a dozen at Krispy Kreme on Friday, in celebration of the bakery's 80 years in business.
Then, keep the sweets train going and head to McDonald's for a free ice cream cone on Sunday. In celebration of National Ice Cream Day, the store is giving away free ice cream all day long and one lucky patron will win free ice cream for life if you swing by between 2 p.m. and 5 p.m. Don't forget to download the McDonald's mobile app to redeem your treat.
Next week, you can grab a $1 regular-sized hot dog with the purchase of a sandwich, ribs, entree salad or entree pasta at Portillo's for National Hot Dog Day on Wednesday, July 19.
There's also a solid discount at Domino's Pizza this week: You can take 50% off menu items when you order online — now through Sunday. And pancakes are also only 59 cents on Tuesday, July 18, from 7 a.m. until 7 p.m. at the International House of Pancakes aka IHOP.
Really love free food? (Who doesn't?) You can always mark your calendar for next year. Keep an eye out for National Pancake Day in 2018, which was held on March 7 in 2017 at IHOP. Pancake lovers received a free short stack of hotcakes throughout the day. Taco Bell also gave away free tacos during the NBA finals — something to watch for in 2018.
Correction: July 11, 2017
Sign up for the Payoff — your weekly crash course on how to live your best financial life. Additionally, for all your burning money questions, check out Mic's credit, savings, career, investing and health care hubs for more information — that pays off.