Video shows Georgia police officer beating homeless black woman during her arrest in June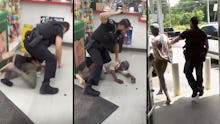 Police in DeKalb County, Georgia, have opened an investigation into an officer's use of force against a homeless black woman, after video posted to social media showed the officer beating her during an arrest in June, the Atlanta Journal-Constitution reported.
The unidentified officer had already been cleared of wrongdoing through an internal probe of the June 4 incident. He reported using his baton to force the compliance of 38-year-old Katie McCrary, who police say was suspected of solicitation at a gas station.
But weeks later, a video surfaced, showing the officer repeatedly striking McCrary as she writhed on the floor. The video — just over a minute and a half long, captured by a witness in the gas station — has raised questions about the excessiveness of the officer's conduct.
(Editor's note: The following video contains images of violence and graphic language.)
In a statement released Monday, DeKalb County Police spokeswoman Shiera Campbell said the department had not been aware of the video's existence until last weekend. The officer wrote in an incident report that McCrary had told him that she was a federal agent and grabbed at his police badge when he warned her against impersonating an officer.
When McCrary allegedly refused the officer's commands to assume the position for arrest, the officer pulled out his baton and began striking the woman, according to the AJC.
"I continued my baton strikes to her legs and forearms instructing her to stop resisting and to lay down with her hands behind her back," the officer wrote in his report. "One strike inadvertently struck the side of her head as she was moving around."
Paramedics responded to the gas station to evaluate McCrary, who was transported to a local hospital and released.
"The narrative in the officer's report appears to be consistent with the video," Campbell said in the statement. "Now that the department has this new evidence, we are looking to determine whether the incident is consistent with policy and the law."
The witness who captured the video said McCrary is homeless and regularly asks people for money at the gas station where she was arrested, WSB-TV reported. But even if the officer didn't know McCrary's history, the force he used to arrest her was unnecessary, the witness, who asked not to be identified, told WSB-TV.
"If he could hold her down and beat her, he could have held her down and put the handcuffs on her," the witness said. "Yeah, she went crazy when he put her on the ground for no reason and then start beating her. Who wouldn't go crazy, I mean you're getting beat by an iron stick."