Donald Trump Jr. and Russia: A timeline of his emails and what he knew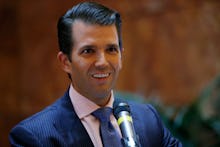 On Tuesday morning, President Donald Trump's eldest son, Donald Jr., tweeted images of emails from June 2016 showing he was told that alleged "Russian dirt" on Hillary Clinton to be delivered by a Russian lawyer came from the Russian government.
The emails came from Rob Goldstone, a former tabloid reporter and music publicist with ties to Trump and contacts in Moscow.
"This is obviously very high level and sensitive information but is part of Russia and its government's support for Mr. Trump," Goldstone told Trump Jr.
"I love it," Trump Jr. responded.
The emails, which Trump Jr. tweeted minutes before their contents were published by the New York Times, refute earlier claims by the president's son that his meeting with Russian lawyer Natalia Veselnitskaya was primarily about adoptions.
What follows is a timeline of Trump Jr.'s contacts with Goldstone and Veselnitskaya.
June 3, 2016
Goldstone emailed Trump Jr. to tell him his client, popular Russian musician Emin Agalarov, had "something very interesting for Trump." According to Goldstone, Agalarov's father, Aras Agalarov, who is reportedly one of Russia's richest men, had received damaging information about Hillary Clinton from a high-ranking Russian prosecutor.
Goldstone claimed his source was the "crown prosecutor of Russia." Russia has no crown prosecutor – the U.K., where Goldstone is from, does – but the equivalent Russian office is prosecutor general, currently held by Yury Yakovlevich Chaika. Russian dissidents have accused Chaika of extensive corruption.
In his email, Goldstone told Trump Jr. that Agalarov could offer him "official documents and information that would implicate Hillary [Clinton] and her dealings with Russia and would be very useful to your father."
Goldstone further told Trump Jr. that the information he offered was "part of Russia and its government's support for Mr. Trump."
Seventeen minutes after Goldstone sent the email, Trump Jr. replied. "If it's what you say I love it," he wrote. He also offered to reach out to Emin Agalarov.
June 6, 2016
Goldstone emailed Trump Jr. a second time and again offered to put him in touch with Emin Agalarov. Trump replied, asking if Agalarov was available to talk. Subsequent emails suggest Trump Jr. and Agalarov then spoke by phone — Trump Jr. and Goldstone mention a Russian attorney and a meeting between Trump Jr. and the attorney which, up until that point, hadn't been discussed over email.
June 7, 2016
Goldstone emailed Trump Jr. again to schedule a meeting with the Russian attorney. Trump Jr. set the meeting for 3 p.m. at his office in Trump Tower on June 9, 2016.
Trump Jr. then told Goldstone that he, Trump's then-campaign manager Paul Manafort and his brother-in-law Jared Kushner would attend the meeting.
June 8, 2016
Goldstone rescheduled the meeting to 4 p.m. June 9 at Trump Jr.'s office in Trump Tower.
June 9, 2016
Trump Jr., Manafort and Kushner met with Veselnitskaya and another person, whom she told the New York Times was an interpreter, at Trump Tower in Manhattan.
Also at Trump Tower that day were Donald Trump, Reince Priebus, Chris Christie and "more than 60 leading Republicans," NBC News reported at the time.
July 24, 2016
On national television, Trump, Jr. called the Clinton campaign's claims that the Russian government had attempted to aid his father's candidacy "disgusting" and "phony."
Nov. 8, 2016
Donald Trump was elected president of the United States. Russian hackers attempted to sway the election in his favor, the U.S. intelligence community later concluded.
July 8, 2017
The New York Times first reported that Trump Jr., Manafort and Kushner had met with Veselnitskaya on June 9 of the previous year. Trump Jr. told the Times the meeting had been "primarily about an adoption program." He did not say whether the 2016 presidential election had been discussed.
July 9, 2017
The Times reported the Trump Jr.-Veselnitskaya meeting occurred following Goldstone's promise to deliver "Russian dirt" on Clinton to the Trump campaign.
July 10, 2017
Trump Jr. defended himself on Twitter, arguing he wasn't "the first person on a campaign to ever take a meeting to hear info about an opponent."
July 11, 2017
Trump Jr. published emails between him and Goldstone minutes before the Times reported he had been told the Russian government was the source of the Clinton information he'd been promised.