A growing number of Americans say they've been victims of online harassment, study finds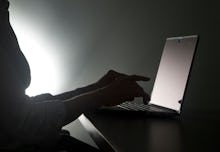 An increasing number of Americans say they've experienced online harassment, new research reveals — and experts say partisan politics are partly to blame.
A report released Tuesday from the Pew Research Center found that 41% of Americans had experienced some form of online harassment — up from 35% in 2014. Another 66% said they had seen online harassment directed at others.
The types of harassment respondents said they'd experienced included name-calling, intentional embarrassment, physical threats, stalking and sexual harassment.
The survey of more than 4,200 U.S. adults showed a 10% increase in online harassment among 30- to 49-year-olds, 49% of whom said they had experienced it in some form.
Among of 18- to 29-year-olds, 67% have experienced some form of name-calling or bullying on the internet, up from 65% in 2014.
Older internet users are being targeted, too. The 22% of Americans age 50 and up who said they had been harassed online is up 5% from three years ago, the new survey revealed.
Pew research associate Maeve Duggan said the increased prevalence of smart phones and social media among older Americans makes them more vulnerable to online harassment.
"We know that currently about three-fourths of adults now own a smart phone," Duggan told Mic on Tuesday. "They're just accessing this technology on a regular basis and they have it available at their fingertips."
Partisan divide
The most commonly cited reason for harassment was political views, with 14% of respondents saying they had experienced some sort of political harassment.
"A number of people brought up not only politics, but the 2016 election that brought out vitriol that they were surprised to see," Duggan said. "On the whole, people really tried to avoid politics and when they come across it, they tend to ignore it. When they can't ignore it and it comes up in their feeds, they find it stressful and frustrating."
Physical appearance was the second leading reason for online harassment, with 9% of respondents saying they'd been targeted based on their looks. Only 8% of those surveyed were targeted based on race or gender. Just 5% and 3% were targeted for religion or sexual orientation, respectively, the study found.
None of this should surprise anyone who regularly uses Facebook or Twitter. Clearly first lady Melania Trump has her work cut out for her with her anti-cyberbullying campaign.