Ohio police officer who fatally shot John Crawford III inside a Walmart won't be charged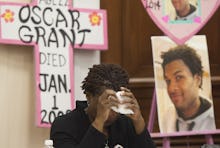 On Tuesday, the justice department announced that Ohio Police Officer Sean Williams did not violate federal civil rights laws when he fatally shot John Crawford III, a black Walmart shopper holding an air rifle, HuffPost reported.
This means Williams, who was cleared of criminal charges in August of 2014, will not be charged with any federal offenses.
In a statement regarding the investigation the Justice Department and U.S. Attorney's Office for the Southern District Ohio said in part, "This investigation revealed that the evidence is insufficient to prove, beyond a reasonable doubt, that Officer Williams violated federal civil rights laws." It added that neither office will pursue federal criminal civil rights charges.
According to the Dayton Daily News, Crawford had picked up a realistic-looking pellet gun from the store's shelves. Another shopper saw Crawford and called 911.
"I heard him scream," John Crawford Jr., Crawford's father, told BuzzFeed News.
Crawford Jr. had been visiting his son when the shooting occurred. Crawford's partner, LeeCee Johnson, was on the phone with Crawford as police shot him. Once the shooting began Johnson put the phone on speaker so Crawford Jr. could hear.
Crawford Jr. said he heard, "Some more voices were saying stuff like, 'Try to hold your arms up, sir. We need you to try to stay with us.'" And then nothing. "That was it," Crawford said.
"The events of Aug. 5, 2014 were tragic and the Beavercreek Police Department wishes the outcome of that evening had been different," Law Director Stephen McHugh said in a statement on behalf of the city. "The Beavercreek Police Department has maintained the officers committed no criminal violations and followed accepted law enforcement protocol in their response to the report of an active threat in the Walmart store."
McHugh added that the department fully cooperated with all investigation and will "continue to maintain the highest organizational values and constantly seek to uphold the trust of all citizens."
Crawford's family attorney Michael Wright told the Dayton Daily News that the family is "disappointed" in the decision and will pursue a civil case. The paper noted that the family's wrongful death civil suit against the city, the officers and Walmart is set for trial in February 2018.