'Destiny 2' System Requirements: What's the minimum PC specs to run the beta?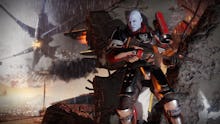 Destiny 2 is touching down on consoles and PC later this year, but if you primarily game on PC you're probably ready and waiting to join in on the fun once and for all. But will your computer be ready to tackle the impending challenge of powering Destiny 2? What kind of specs will you need to rock in order to enjoy the new foray into Bungie's universe?
Destiny 2 PC Specs: Can you play the beta on your PC?
According to the very useful System Requirements Lab, the minimum system specs are as follows:
CPU: Intel Core i5-2500 / AMD FX-6200
The recommend specs are here:
CPU: Intel Core i7-6700 / AMD FX-9590
These are the PC requirements for the final game, but we expect the beta will require the same specs. If your gaming PC doesn't fall within these requirements, you might need to upgrade or consider possibly playing the console version if you're still interested in playing.
Obviously, however, the fact that there is a PC version this time is a very important notion, so if you're still keen on putting something together there are plenty of resources online about how you can upgrade your PC, or if you already know how, at least you're better prepared to take care of it now with these Destiny 2 PC specs.
More gaming news and updates
Check out the latest from Mic, like this essay about the sinister, subtle evils lurking in rural America that Far Cry 5 shouldn't ignore. Also, be sure to read our review of Tekken 7, an article about D.Va's influence on one Overwatch player's ideas about femininity and an analysis of gaming's racist habit of darkening villains' skin tones.