Sean Hannity says Democrats colluded with the Ukraine for dirt on Trump. Is he right?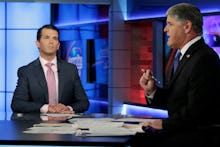 Is Hillary Clinton just as guilty of collusion as Donald Trump Jr.? Sean Hannity seems to think so.
On Tuesday, the Fox News pundit invited the president's son on his show to explain himself with regard to the email scandal that sent shockwaves through the political world over the weekend. Earlier in the day, Trump Jr. had tweeted images of emails that showed he took a meeting with someone he'd been told was a representative of the Russian government. The point of the meeting, according to the emails, was to acquire "Russian dirt" on Democratic presidential candidate Hillary Clinton.
But Clinton and the Democrats, Hannity told his audience, were just as guilty of collusion. As proof, he pointed to a January Politico story that said representatives of the Democratic National Committee had met with a Alexandra Chalupa, a Ukrainian-American political operative who had been digging for dirt on the president's former campaign manager, Paul Manafort.
So, did Clinton and the Democrats collude with Ukraine? The short answer, legal experts have told Mic and other news outlets, is not really.
The first thing to understand, they argue, is that "collusion" isn't a legal term. Though Trump Jr. may have committed a crime, neither he — nor Clinton or anyone from the DNC — can be found guilty of "collusion."
But the actions of Trump Jr. and the DNC did differ in "scope, scale and intent," Paul Rosenzweig, former deputy assistant secretary for policy at the Department of Homeland Security and a visiting fellow at the conservative Heritage Foundation, said in an interview.
One glaring difference, Rosenzweig said, is that Trump Jr. invited two of the most senior members of the Trump campaign — Manafort and brother-in-law Jared Kushner — to his meeting with Natalia Veselnitskaya, whom he was told was speaking on behalf of the Putin regime.
"The details of the alleged Ukrainian collusion are completely different," Rosenzweig said. "They don't involve Chelsea Clinton and John Podesta taking a meeting with a person who's purported to be identified as a Ukrainian government attorney who says she's there to help the Clinton campaign."
Federal election law bars political campaigns from accepting anything "of value" from foreign nationals; opposition research on Hillary Clinton certainly would have been "of value" to the Trump campaign, just as dirt on Manafort would have been "of value" to the DNC or the Clinton campaign. But in both cases, there's no evidence any such dirt ever materialized.
In a statement, Trump Jr. said his meeting with Veselnitskaya yielded nothing and claimed they mostly discussed the Magnitsky Act and U.S. adoption of Russian children. Similarly, Chalupa told Politico back in January that she didn't pass along any documents to the Ukranian Embassy in Washington D.C. She did, "with the DNC's encouragement," ask the embassy to arrange for party staffers to interview Ukrainian President Petro Poroshenko about Manafort's ties to Viktor Yanukovych, Ukraine's former president who fled to Russia after his ouster in 2014. The embassy denied her request, according to Politico.
But the fact Russia was actively working to see Trump elected — while Ukraine did not appear to be doing the same for Clinton — also makes a difference. "If the Ukrainian government did the same with Clinton as the evidence suggests Russia did with Trump, it's just as serious. But we are not there," Lawrence Noble, general counsel of the Campaign Legal Center, told the Washington Post.
Rosenzweig agreed. "If John Podesta had gotten an email from somebody saying, 'I'm working for the Ukrainian government and I want to help you beat Donald Trump,' and had taken that meeting, he would be in the exact same position as Manafort and Donnie Jr."