8bitdo ZERO Controller: Play your favorite iOS and Android games with this tiny Bluetooth gamepad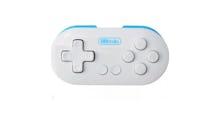 Chinese manufacturer 8bitdo has released a svelte little device known as the Zero, and it looks like just the thing for anyone looking for something a little more high-profile than frustrating on-screen controls that don't always respond. The company's Bluetooth controller only costs $17, and it's small enough to carry on your keychain.
Mobile gaming typically relies on on-screen "buttons" to deliver players a decent experience, but most of the time you're wishing you actually had something tangible to play with. That's why many opt for actual, miniature controllers that can sync with phones and other mobile devices to offer more accurate controls that don't cover up the screen.
8bitdo ZERO Controller: A smartly-sized peripheral
According to AndroidCentral, the ZERO Controller fits in the palm of your hand, but still includes a sizable D-pad for precision along with select and start, two shoulder buttons and four regular buttons. A fully charged battery — charged via micro USB — lasts for about 20 hours, which is quite a long time if you're primarily using it for chunks of mobile gaming.
It's compatible with a wide berth of games, including some of Sega's latest mobile releases, and it's very easy to pair with your device. It's not just a controller, either. You can even use it as a remote shutter for your phone camera, as AndroidCentral's evaluation noted.
The ZERO Controller is a small peripheral that solves a very big problem when it comes to gaming on your favorite mobile device, whether you're into platformers, RPGs, shooters or more. Just about anything beats having to hammer away at a screen where your fingers end up taking up most of the real estate instead of the game you've chosen.
Now if we could perfect touch controls on mobile devices, we'd be golden.
More gaming news and updates
Check out the latest from Mic, like this essay about the sinister, subtle evils lurking in rural America that Far Cry 5 shouldn't ignore. Also, be sure to read our review of Tekken 7, an article about D.Va's influence on one Overwatch player's ideas about femininity and an analysis of gaming's racist habit of darkening villains' skin tones.