US refugee admissions surpass Trump's 50,000-person cap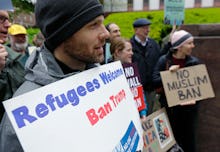 On Wednesday, the United States officially surpassed the Trump Administration's cap of 50,000 refugee admissions for the fiscal year.
The total number of refugees admitted to the country hit 50,086, according to NPR. A State Department official told NPR that rather than simply cut off the number of refugees at 50,000, they instead set the cutoff at the end of the day, to keep the process "orderly."
The United States was originally set to take in 110,000 refugees, as directed by then-President Barack Obama in 2016. President Donald Trump cut that number to 50,000 upon entering office as part of his travel ban, the Los Angeles Times reported.
However, the door isn't completely closed on all refugees hoping to resettle in the United States in 2017. As the Times noted, due to a Supreme Court decision, anyone with a "bona fide" relationship to someone within the U.S. will still be allowed in.
But, as Mic previously reported, that "bona fide" relationship status remains unclear as senior administration officials created their list of close relationships based on the definition of family in the Immigration and Nationality Act of 1965. Grandparents, grandchildren, uncles, aunts, cousins and in-laws do not make the cut. A job offer or admission to a college or university can also get a refugee in to the country, the Associated Press reported.
The limit on refugees will reset on Oct. 1, which marks the beginning of the new fiscal year, at which point Trump will decide how many refugees will be permitted into the U.S. for that fiscal year. Neither Trump nor his administration have signaled what the new number may be.
"It's a sad day for the U.S.," Lee Williams, vice president of the U.S. Committee for Refugees and Immigrants, told the AP. "This is a travel ban that destroys families and does nothing to add security to the process."