The new Republican health care bill looks very similar to the old one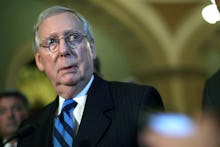 This is Mic's daily read on Donald Trump's America. Welcome to the political newsletter that wants you to know the new bill comes today, the CBO score is coming Monday and a vote is expected next week. For the fourth time, buckle up.
Want to receive this as a daily email in your inbox? Subscribe here.
What we're watching
Today: The new health care bill looks a heck of a lot like the old one.
More: Many Republicans remain skeptical.
Even more: The president thinks Putin would have preferred a President Clinton and again demurred on the question of Russian hacking.
Yes, more: The Trump Jr. fallout continues.
Trump's agenda today: Traveling in Paris. Meeting French President Emmanuel Macron.
What to know about the latest Senate Republican health care bill
Republicans are set to reveal their fourth health care proposal of 2017. This second Senate version of the GOP alternative to the Affordable Care Act is expected to be released Thursday morning. It comes after two attempts in the House, the second of which passed.
The first Senate Better Care Reconciliation Act would have cut taxes imposed by the ACA on the wealthy. The new version preserves those taxes and increases funding to fight the opioid epidemic and subsidize health insurance premiums.
The latest bill still cuts Medicaid by more than $700 billion over the next decade, affecting low-income Americans and 1.4 million people in nursing homes. The program covers a fifth of all Americans. The new bill still allows insurers to not provide essential health benefits and contains a loophole that would let some insurers not cover pre-existing conditions.
"Fundamentally, they haven't changed the bill," said Sen. Dean Heller (R-Nev.), a key vote for Senate Majority Leader Mitch McConnell (R-Ky.) on health care. Sens. Susan Collins (R-Maine), a moderate, and Rand Paul (R-Ky.), a conservative, have already said they will not support the new Senate bill. Because McConnell cannot lose more than two Republican votes to pass the legislation, he can't afford to lose a single skeptic, like Heller.
Republican senators will meet today at 11:30 a.m. Eastern.
Opposition to the bill has reached fever pitch, particularly at the state level. Medical groups are making a final pitch to key senators on their home turf to oppose the bill. Private health insurance companies, which have sometimes been supportive of the legislation in Congress, expressed concern Wednesday about the newest bill.
Despite all the heated rhetoric between Democrats and Republicans, there's a growing chance the Senate could seek a bipartisan solution if this bill fails. "I think they see this process crashing down on top of them and they're looking for a different way," said Sen. Chris Murphy (D-Conn.)
McConnell continues to promise a vote on the health care proposal next week. Right now, no one thinks he has the 50 votes he needs.
Today's question: Do you want Republicans to work with Democrats on health care reform? Or should Democrats refuse to alter the Affordable Care Act? Email your thoughts to trumpsamerica@mic.com.
We're seeking your support to expand our coverage of Donald Trump. As little as a $1 a month will give you access to an exclusive group to interact with Mic journalists and grow our reporting. Learn more here.
Takeaways from two Donald Trump interviews
President Donald Trump told the Christian Broadcasting Network's Pat Robertson that Russian President Vladimir Putin would have preferred Hillary Clinton won the election — which is antithetical to the recent report Trump's eldest son was told Russia was trying to help his father.
Trump also said he "will be very angry" if Congress does not repeal and replace the ACA.
In a separate interview, Trump told Reuters, "I think many people would have held that meeting" his son Donald Trump Jr. attended with a Russian lawyer in June 2016. Trump also declined to say whether he believes Putin's election hacking denial.
Further fallout from Trump Jr. emails
Lawmakers are sick of talking about the Trump Jr. emails. But Sen. Chuck Grassley (R-Iowa) has said he will subpoena, if necessary, former Trump campaign chairman Paul Manafort to testify about Russia.
Democrats are turning their fire against White House adviser Jared Kushner, the president's son-in-law, for potentially breaking laws governing meeting with foreign officials. Trump's lawyers also see the danger Kushner may post, suggesting a wall be built between Trump and Kushner over the Russia investigation. Meanwhile, here's what you need to know about the growing legal team digging into Trump-Russia allegations.
News and insight you cannot miss:
Here are 4 key takeaways from the confirmation hearing for Trump's proposed FBI director, Christopher Wray.
More than 50,000 refugees entered the United States this year. Trump wanted to cap it there.
Articles of impeachment have been introduced against Trump.
The Women's March is leading a march against the National Rifle Association in Washington on Friday. Here's what you need to know.
Rep. Steve Scalise (R-La.) is out of the ICU.