Kesha's new single "Woman" is a feminist battle cry that defies her pop past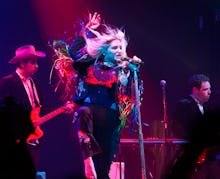 On the first single of her new era, Kesha prayed. For her second, she's taking names. On Thursday, the newly reinvented pop star released "Woman," a fiery soul anthem about writing her own "shit," making her own "money" and being a "mother fucking woman." The queen has parted her folded hands and flipped two birds in their place.
Featuring contributions from co-writers Drew Pearson and Stephen Wrabel and brass from the legendary Dap-Kings Horns — who once backed the late Sharon Jones — the track sounds unlike any record the singer has ever pushed as a commercial single. Gone are the infinitely layered synths and explosive electronics of "TiK ToK" and "Die Young," her biggest hits from the Dr. Luke era. We're headed to the dive bar now — the Oddity Bar, to name the exact location depicted in her new video, co-directed with her brother Lagan Sebert.
Listeners are welcomed in by a swaggering, honky tonk piano, funk guitars and ecstatic soul dance breaks. It's a glimpse at the singer's future. This is the music Kesha feels she was always born to make, and she sells it really well.
In an accompanying essay on Rolling Stone, Kesha details the strange disconnect she felt playing her massive festival pop before returning to her tour bus to play "Iggy Pop, Rolling Stones, Beach Boys, T Rex, Dolly Parton, James Brown, Beatles [and] The Sweet."
"I realized that for most of my life I was intimidated to even try and run in the leagues of the people I look up to," she wrote. That, and she also had to contend with producer and label boss Dr. Luke, who was determined to see her "continue putting out the same song and becoming a parody," according to Kesha in a 2013 interview. That was a year before she filed her lawsuit accusing the producer of emotional, physical and sexual harassment. She still has yet to free herself from that allegedly abusive legal and contractual tangle.
But Kesha no longer wants to play the victim. And this track is designed to show a new side of the artist — a woman who laughs in the recording studio, who's contributing to genres she feels true love for, one who's gained new confidence in her voice and her womanhood.
"In the past few years, I have felt like a woman more than ever," Kesha wrote in her Rolling Stone essay.
I just feel the strength and awesomeness and power of being female. We hold the key to humanity. We decide if we populate the Earth, and if so, with whom. We could just decide not to have any more kids and the human race would be over. That is power.
And this is the new Kesha.
Mic has ongoing Kesha coverage. Please follow our main Kesha hub here.