At four years old, the Black Lives Matter network takes stock of its work on the ground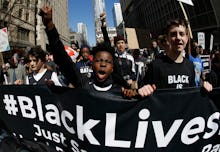 The mamas bailout day, the interventions at Pride celebrations, the police precinct occupations and the trips to North Dakota to stand in solidarity with Indigenous activists at Standing Rock: these are among actions the Black Lives Matter Global Network says it took to enlarge its footprint since it was founded four years ago Thursday.
In a new report first shared with Mic on Thursday, the BLM network, which consists of more than 40 local chapters in the United States, Canada and the U.K., takes stock of its work at the grassroots level. The report's release comes as, in recent weeks, questions have been raised about the movement's strength and visibility in an increasingly tumultuous national political climate.
"The Black Lives Matter Global Network is as powerful as it is because of our membership, our partners, our supporters, our staff and you," the report's authors wrote. "Our continued commitment to liberation for all black people means we are continuing the work of our ancestors and fighting for our collective freedom because it is our duty."
The network was co-founded by the prominent national organizers Alicia Garza, Patrisse Khan-Cullors and Opal Tometi, following George Zimmerman's acquittal of murder and manslaughter in the shooting death of Trayvon Martin, on July 13, 2013. But the vast majority of the network's accomplishments are a result of localized organizing by its member-led chapters, the report states. The BLM movement, which largely has been known for its street protests against black deaths at the hands of police, often organizes local efforts to little fanfare from broader communities.
For example, the success of the New York City chapter's Swipe It Forward campaign, which calls attention to the criminalization of poverty through fare-beating arrests on the subway system, came together through partnership with other Movement for Black Lives groups that shared the chapter's vision. Organizers are not always in agreement, but the mission of saving black lives is as critical as it's ever been, Shanelle Matthews, the director of communications for the BLM network, said in a statement.
"The work we have set out to do is hard and tedious," Matthews said in the statement. "Each year brings its own challenges — and for many of us, each of them tests our resolve in unimaginable ways. Despite all that we are up against given this new political landscape, we are uniquely positioned to build substantial power for black people."
The network's full report is being hosted at a newly created website, Celebrate BLM.