Republicans propose amendment to ban Department of Defense from funding transition surgery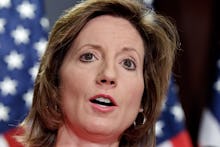 Late Wednesday evening Republicans on the House Rules Committee pushed forward with an amendment to the defense authorization bill that would prohibit the use of government money for medical treatment related to gender transition.
According to the Associated Press, Rep. Vicky Hartzler (R-Mo.), who put forth the amendment, said it will end the Obama-era practice of requiring the armed forces to fund medical procedures, procedures she said aren't even covered by most private insurance plans.
The policy Hartzler is hoping to amend was put in place in October and covers not only gender-reassignment surgeries, but also other therapies and treatments deemed medically necessary for active-duty transgender service members, the Washington Post reported.
"By recruiting and allowing transgender individuals to serve in our military we are subjecting taxpayers to high medical costs including up to $130,000 per transition surgery, lifetime hormone treatments, and additional surgeries to address the high percentage of individuals who experience complications," Hartzler said in a statement. "This policy is costly and a threat to our readiness."
Stephen Peters, a spokesman for the Human Rights Campaign, told the Washington Post that the amendment was "unconscionable."
"It puts their health at risk and undermines military readiness by stripping away the ability of medical professionals to ensure their patients have the care they need and deserve," Peters said. "It is imperative that the House of Representatives reject this harmful amendment."
Several Democrats also spoke out against the amendment including California Rep. Mark Takano, who called it "truly ugly" in a tweet.
Massachusetts Rep. Joe Kennedy III, who serves as the chairman of the Congressional Transgender Equality Task Force, said in a statement that "Bigotry is the last thing this country should offer any brave man or woman who volunteers to defend us."
He added that the amendment tells "thousands of Americans willing to pay the ultimate sacrifice that they are not entitled to the same rights as the soldier they stand next to. Transgender Americans, in uniform or not, deserve better than this hateful amendment from those elected to represent them."