NPR staffers are moving toward a possible strike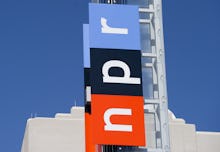 On Thursday, the union representing more than 400 employees at NPR published a website with an ominous countdown clock front and center, letting everyone know when their current employment contract is set to expire.
"We've been making NPR for decades. Every day, we come together to produce journalism that makes a difference at home and abroad," the site read. "Journalism that informs our loyal audience, journalism that serves the mission we adhere to daily."
It goes on to explain that much of the staff behind NPR has been represented by SAG-AFTRA since 1976. "NPR is better because of its people, and because of its relationship with our union," it said.
That union has helped NPR become a "good place to work" via collective bargaining and union representation. It has helped the staff see better pay and benefits and has helped ensure a diverse workforce, the site explained. However, as the Wrap reported, management at NPR is now attempting to end the union's ability to enforce contract clauses through arbitration as well as introduce a two-tier salary system.
Becky Sullivan, a union shop steward and a member of the bargaining team, told Poynter that NPR executives are "trying to lower salary minimums," meaning NPR would pay new hires less. She added, "they are really trying to weaken the power of the union. They want to write in more flexibility for outside people to do union work and take away the union's ability to file a grievance."
A spokesperson for NPR told Variety that the talks, which have happened with the assistance of a federal mediator, have been positive, noting that they will continue to work toward a "mutually satisfactory agreement."
"Our goal is to make this organization economically sustainable for the long-term and, importantly, enable NPR to invest more resources in expanding audiences, innovating its multi-platform journalism, and adding newsroom staff to meet that growth and support current staff," the spokesperson added.
Along with the site, NPR staffers also introduced the hashtag #WeMakeNPR, which they originally used in 2015 after negotiations between the union and executives went south. According to Variety the staffers could move toward a strike on Friday if negotiations continue to stall.