'Diablo 3' Backwards Compatible Xbox One: Can you play the Xbox 360 version on the newest console?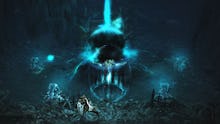 Little by little the Xbox One has been opening up to backwards compatibility with several hundreds of Xbox 360 titles you can play on the system. Curiously, one very important game, at least for Blizzard fans, is missing. Diablo 3 was originally released for Xbox 360 first and came back again for Xbox One, so it may seem as though you could simply use your old copy to keep the game going even in the current generation, but unfortunately that isn't the way things go anymore with our current gaming ecosystem.
Diablo 3 Xbox 360: Can you use Diablo 3 on your Xbox One?
The answer is a simple no, as the old version of Xbox 360 Diablo 3 will not work on your Xbox One in terms of backwards compatibility. As you can see in the official Xbox One backwards compatible list, it's nowhere to be found, and it likely never will be. Unfortunately, because there was a brand new crop of current-gen versions of Diablo 3 for Xbox One and PlayStation 4 you'll likely be stuck paying full price for a new copy.
Unfortunately, you cannot play cross-platform between consoles with players on an Xbox 360 copy of the game and an Xbox One copy of the game as this is not currently possible.
If you're looking to get your Diablo 3 fix and are still stuck in the previous generation, you should rectify that by upgrading your copy or simply moving to PC, where you'll be able to continue playing until your rig is outdated.
More gaming news and updates
Check out the latest from Mic, like this essay about the sinister, subtle evils lurking in rural America that Far Cry 5 shouldn't ignore. Also, be sure to read our review of Tekken 7.