The all-girl robotics team from Afghanistan has finally made it into the US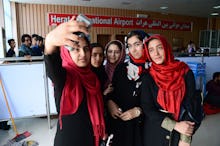 The Afghan girls previously denied visas to compete in an international robotics competition on Sunday were allowed into the U.S. early Saturday morning thanks to last-minute intervention from President Donald Trump.
The six high-school girls from the Afghanistan Robotics House in Herat, Afghanistan, landed at Dulles International Airport in Washington, D.C., where they and their chaperone were greeted by U.S. special envoy and Afghan ambassador Hamdullah Mohib, according to Politico.
"Seventeen years ago, this would not have been possible at all," Mohib told reporters. "These girls will be proving to the world and the nation that nothing will prevent us from being an equal and active member of the international community."
It was Trump's travel ban that prevented members of Team Afghanistan from having their seven-day U.S. travel visas approved in the first place, even after twice traveling 500 miles across their country to violence-plagued Kabul to apply for those visas at the country's U.S. embassy. U.S. officials reversed their decision after Trump personally intervened earlier in the week, according to Politico.
The girls previously planned to watch their ball-dropping robot compete in the event on Skype.